You Can Make Hope Shine Even Brighter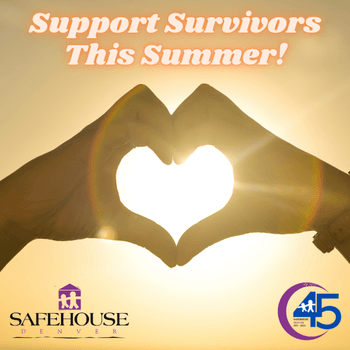 As SafeHouse Denver's milestone year continues...
We are truly grateful for the generosity of our community. Celebrate with us by donating to support survivors through a variety of special opportunities!
Your contributions help survivors feel the warmth of hope, healing and empowerment in our services.
Stay tuned for more details about these unique events and activities.
Thank you for making a difference with us this summer!
In honor of our 45th Anniversary, we hope you'll consider making a gift today, so we can continue to meet the needs of survivors tomorrow.
Thank you in advance for your confidence in our work, and most importantly, for your belief in survivors.
Together, we will continue to build hope.
Your gift builds a brighter, safer future…
$45 provides a survivor with one hour of support on the Crisis & Information Line.
$90 provides one hour of non-residential counseling.
$225 provides nine kiddos with an age-appropriate group session at the Shelter.
$450 provides three nights of life-saving shelter to a survivor and their child.

$1,530

provides a survivor with a one-month stay at our Extended Stay Program.
*Note that your gift does not need to be a multiple of 45 to be impactful. These amounts are all in honor of this special anniversary year, but a donation of ANY amount is appreciated!
SUBSCRIBE TO OUR NEWSLETTER
Follow the link below to receive our email newsletter.