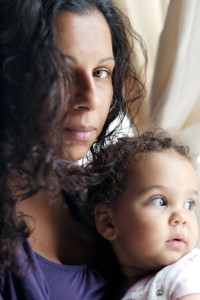 As we celebrate our 40th Anniversary in 2017, SafeHouse Denver is pleased to pursue plans to make a longtime strategic vision a reality with the addition of an Extended Stay Program (ESP). Our ESP will be a six-to-eight unit apartment building for shelter residents who are out of crisis, but require additional time to pursue affordable housing, employment, child care and other resources essential to achieving self-sufficiency.
Leadership at SafeHouse Denver has set our capital fundraising goal at $1M to purchase, renovate and furnish the new ESP facility. We are grateful that The Anschutz Foundation has launched our capital fundraising efforts with a $200,000 conditional grant which will be funded when all funds necessary to purchase the building have been raised.
The Need: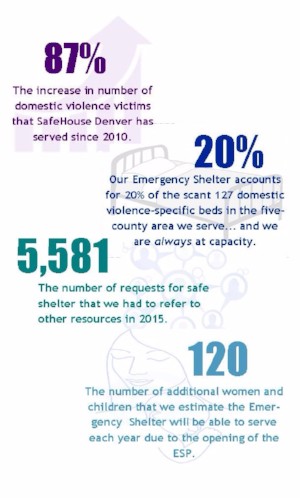 Over the past eight years, we've seen a significant increase in the number of women and children staying in our emergency shelter for long periods, sometimes up to four or five months. The lack of safe, affordable housing is the greatest barrier facing survivors of domestic violence seeking to leave an abusive relationship. In Metro Denver, multi-year waitlists for Section 8 or other government housing, high rental rates, competition for units, and high occupancy rates can be insurmountable challenges.
Our current emergency shelter is designed to serve victims in immediate crisis with an intended length of stay of 30 days. Our safety-driven philosophy allows families to apply for extensions, however, this practice limits our ability to serve others in immediate crisis due to lack of space. It can also cause families at shelter to be re-traumatized as new residents enter the facility.
ESP at a Glance:
ESP will be housed in a six-to-eight unit apartment building in Denver with good access to public transportation.
ESP will provide safe, secure, rent-free independent living to survivors of domestic violence in fully-furnished studio or one bedroom apartments.
An on-site case manager will provide individual counseling, support groups, advocacy services and referral to self-sufficiency-related resources.
Only SafeHouse Denver shelter residents who are employed or receiving Temporary Assistance for Needy Families (TANF) and Medicaid and on transitional housing or other types of housing-related wait lists will be eligible for this program.
The anticipated length of stay will be one to four months with longer periods possible on a case by case basis.
Benefits of ESP:
Families will have a safe environment and more time to access long-term housing, employment, childcare and other self-sufficiency-related resources.

The individual-living units at ESP will provide families with more privacy and independence as they work toward self-sufficiency.

ESP will help reduce homelessness in our community and ensure a brighter future for survivors of domestic violence and their children.
---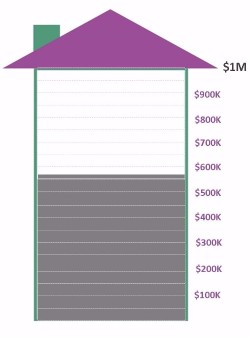 If you're interested in making a fully tax-deductible gift to SafeHouse Denver in support of this exciting new program or talking directly to a staff person, please call Valerie Chilewski, Chief Development Officer, at 303-302-6116.
We've raised almost $600,000 to date! Please help us reach our goal of $1M!
---