Give Them the Priceless Chance to "Just be a Kid"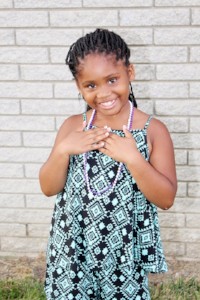 Do you remember being a kid as back-to-school time approached? The summer fun began to wind down, you started shopping for school supplies, and you tried to guess what teacher you would have that year. For Danielle, a young former SafeHouse Denver resident, back-to-school time was especially challenging. Her Family Advocate shares her story:
I remember Danielle – she was nine-years-old when she came to the Shelter with her mom. They arrived right around this time of year, and at first, she adjusted pretty well. But then, as the other kids in Shelter started back-to-school, she became quieter and less optimistic.
You see, Danielle couldn't attend her old school. Her mother knew that the abusive man they'd just fled would look for them there. I was helping her mom through the process of enrolling Danielle in a new school, but it was taking longer than she anticipated.
Danielle would come to my office all the time and ask me what I was doing, or if I wanted to play. You could tell she just wanted a friend. And for Mom, that was hard, because she was trying to put all of her focus on finding work and accessing housing in a new community so that Danielle would be safe at school.
Everything changed when Danielle started attending Children's Group. During these groups, trained volunteers and I facilitated art projects or games – with the underlying purpose of helping the kids process the challenging emotions they were experiencing. For Danielle, Children's Group provided an important opportunity to form relationships and bond with other children her age. Almost overnight, she was back to being the hopeful little girl she was before.
Watching Danielle 'let loose' and be a kid gave her mom a sort of unspoken permission to focus on her goals. You could just see the relief on her mom's face – and her resolve to move forward grew even stronger.
Danielle and her mom are safe now, and Danielle loves her new school. But, there are 16 children at the Emergency Shelter and Extended Stay Program right now that need your help. As those 16 children go back to school this year, they'll face their own challenges. We hope you'll support the Children's Group sessions that can help so much during their time at SafeHouse Denver. With a donation of just $15, you can give a young girl or boy the priceless chance to "just be a kid." Please consider giving the vital gift of a Children's Group by making a $15 donation today.
As students everywhere go back to school, please remember the 16 that will start school while staying at the SafeHouse Denver Emergency Shelter or newly-opened Extended Stay Program. For them, your gift can be life-changing. Thank you.