Tax Credit Available
All donations to SafeHouse Denver are tax-deductible (and appreciated!), but did you know you can earn even more tax relief on donations of $100 or more?
SafeHouse Denver is an Enterprise Zone qualified organization. This means that as a contributor, you may claim a Colorado state income tax credit of 25% of the value of the contribution up to a maximum credit of $100,000.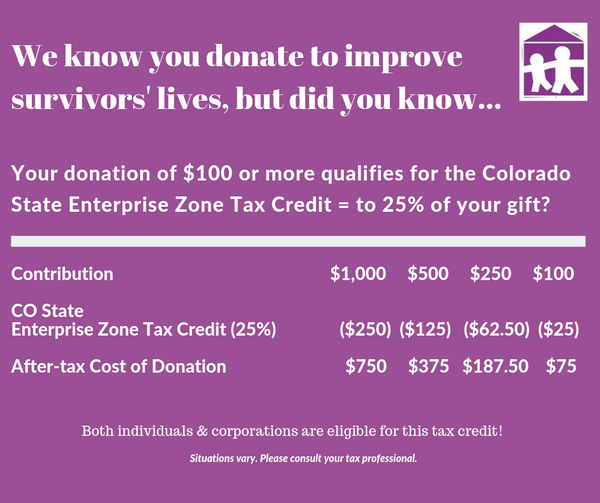 In order to qualify for the Enterprise Zone credit, donors must provide SafeHouse Denver with the last four digits of their Social Security Number or their Colorado Account Number. Without record of either of these numbers, we are unable to submit your donation as an Enterprise Zone contribution. Also, in order to claim the Enterprise Zone tax credit, you must file your state tax returns electronically.
Questions? Email Shannon, our Chief Development Officer, or call her at 303-302-6116 for more information.
*Please consult your tax advisor regarding your unique tax situation.
SUBSCRIBE TO OUR NEWSLETTER
Follow the link below to receive our email newsletter.