You are not alone! We are here for you.
We have resources available to support you at every step of your journey to a life free from domestic violence. Call our Crisis Line at 303-318-9989 to start the process of healing from your trauma, and learn more about the range of services we provide through our full continuum of care.
Recognize The Cycle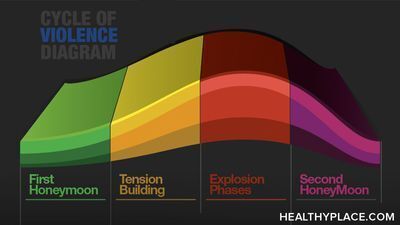 The Cycle of Domestic Violence is a simplified model to help begin to understand the behaviors and patterns in an abusive relationship. The cycle often looks like this:
SafeHouse Denver often sees the relationship begin with a honeymoon phase. During this phase, the abuser is trying to "sell themselves" as a good partner. This phase is often associated with showering attention, gifts and flowers.
The next phase is tension building. During this time, expectations within the relationship are changed. The survivor feels that they are constantly having to do more to maintain the abuser's happiness or change their basic behavior to meet the abuser's expectations.
Next is the violence phase. It is important to note that the violence is not necessarily or always physical. This phase is also known as the "explosion" phase and can include any kind of attack: verbal, physical or sexual. During this time, the survivor is realizing the consequences of not meeting the perpetrator's expectations. This is often a time of fear for the survivor.
In the final phase, the second honeymoon, the behaviors mirror the initial honeymoon but with an important twist. The twist is that the abuser will consistently use language to put blame on the survivor, like "You know this is all your fault" or "You should know that I can do [threat] to you." This phase also includes a lot of apologies and promises to change. This combination of faulting the survivor and showering them with promises is toxic. While it gives the survivor hope that they may get back to the original honeymoon, it also gives them a false sense of control that if they change their behavior, then the relationship will be better.
The cycle also explains how three dynamics – love, hope and fear – repeat themselves and keep the cycle in motion to perpetuate a violent relationship.
Love... for your partner and the good points of the relationship
Hope... that it will change because the relationship didn't begin like this
Fear... that the threats to kill you or your family will become reality
Relationships are complicated. If you recognize this pattern within your relationship, it might be time to call us. Even if these descriptions don't entirely match your experience, but something is off or doesn't feel right, please still reach out to us for help. We are here for you 24/7 by calling 303-318-9989.