Throughout 2022, SafeHouse Denver is celebrating 45 years of supporting survivors and educating the community.
We look forward to recognizing the past, present and future of SafeHouse with you, because we could not provide these vital services without your generous support.
Special Logo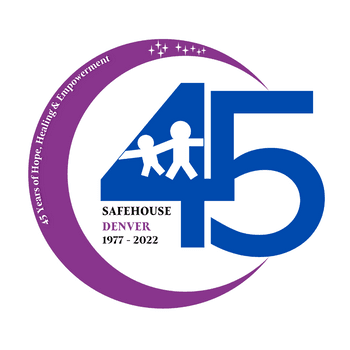 To mark this milestone, we created a special logo with a marketing project team from Charles Schwab as part of their Nonprofit Pro Bono Challenge.
Sapphire blue is the traditional color for this anniversary year.
The stars above the number 45 are in groups of four and five.
The symbol of the crescent moon represents light and hope during even the darkest times.
Our History
Visit the Mission & History page to learn more about other SafeHouse Denver milestones over these 45 years.
Events & Activities
We've compiled a digital cookbook of comforting recipes from our community! "Hope Is The Secret Ingredient" will be available later this fall with a donation of $10 or more.
Stay tuned to this page for updates about exciting opportunities to get involved in this anniversary celebration and show your support for survivors!
Community Reflections
Do you have old photos, articles or personal stories about SafeHouse Denver? We'll be doing weekly throwback features on our social media, and we'd love to add your memories to our history! Please email Rob Purper, our Communications Manager, with anything you'd like to share.
SUBSCRIBE TO OUR NEWSLETTER
Follow the link below to receive our email newsletter.