Non-Residential Counseling and Advocacy Services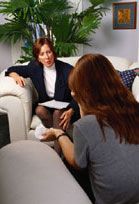 All services offered at our non-residential Counseling & Advocacy Center are available in Spanish.
SafeHouse Denver is more than a shelter. Our non-residential Counseling & Advocacy Center serves survivors of domestic violence and their children who are not in need of shelter but who would like access to counseling, support groups, safety planning and legal referrals.
Individual Counseling
Clients interested in meeting with a counselor must first call the crisis line to set up an intake appointment. The intake allows the survivor to meet one-on-one with a counselor and discuss her specific situation.
The counselor assists clients in increasing their awareness and understanding of domestic violence dynamics, such as the cycle of violence, and in understanding their own responses to the violence and abuse in their relationship. Identifying and prioritizing clients' needs and goals, and safety planning are crucial components to individualized counseling at our Counseling & Advocacy Center. The counselor also serves as the client's advocate, and will make referrals to community resources, such as housing programs or legal services, based on the client's current needs.
Support Groups
Support groups are an essential part of the long-term recovery process for survivors of domestic violence, and many non-residential clients move into a support group following individual counseling. Specialized services for the GLBT community are offered at the Counseling & Advocacy Center.
Children's Services
SafeHouse Denver provides short-term individual services to children and teens if their mothers are enrolled in programs at the Counseling & Advocacy Center.
---
If you or someone you know is experiencing domestic violence, please call our 24-Hour Crisis and Information Line for support and information on how to access our services: 303-318-9989.