IF YOU OR SOMEONE YOU KNOW IS EXPERIENCING DOMESTIC VIOLENCE, PLEASE CALL OUR 24-HOUR CRISIS & INFORMATION LINE: 303-318-9989.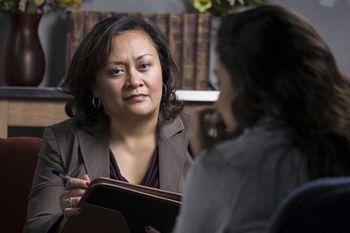 All services offered at our non-residential Counseling & Advocacy Center are available in both English and Spanish.
SafeHouse Denver is more than a shelter. Our non-residential Counseling & Advocacy Center serves survivors of domestic violence and their children who are not in need of shelter but who would like access to advocacy-based counseling, support groups, safety planning and resource referrals.
Individual Advocacy-Based Counseling
Clients interested in meeting with a domestic violence Advocate are encouraged to first call the Crisis Line. After an initial conversation, the caller will be connected with an Advocate to set up an intake appointment. The intake allows the survivor to meet one-on-one with an Advocate to discuss their specific situation and next steps.
During subsequent individual sessions, survivors are provided with a safe and supportive environment in which they are able to process the trauma of domestic violence with the help of their Advocate. Additionally, Advocates can help survivors develop safety plans for themselves and their children, identify and prioritize their safety goals and begin to access community resources such as housing programs or legal services.
Advocates and survivors work together, pairing the survivor's own knowledge and goals with the staff member's knowledge of domestic violence and community resources, to develop an action plan that can help them achieve their goals. During these sessions, Advocates work with survivors to establish a trusting relationship; create, modify or adjust safety plans for survivors and their children; manage acute crisis; access relevant community resources; and more.
Whether you are preparing to leave an abusive relationship, you are in the process of leaving, or you left years ago… our Advocates are here to help.
Support Groups
Survivors who are accessing individual advocacy-based counseling are also offered the opportunity to join Support Groups as available. Support groups cover a range of topics that may include financial empowerment, art as a coping strategy and co-parenting with an abuser. These groups can be an essential part of the healing process for some survivors.
Children's Services
SafeHouse Denver provides short-term individual services to children and teens if their parent is currently participating in individual advocacy-based counseling.
---
SUBSCRIBE TO OUR NEWSLETTER
Follow the link below to receive our email newsletter.