IF YOU OR SOMEONE YOU KNOW IS EXPERIENCING DOMESTIC VIOLENCE, PLEASE CALL OUR 24-HOUR CRISIS & INFORMATION LINE: 303-318-9989.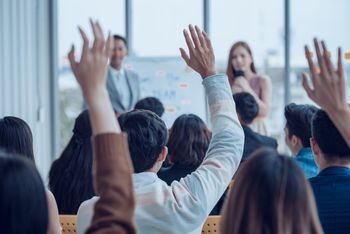 SafeHouse Denver provides educational presentations about domestic violence to increase community awareness, encourage prevention and develop effective community responses.
These presentations can be tailored to meet the specific needs of your group and can be provided in both English and Spanish. Our community education services are provided at no cost, though we appreciate donations from those who can afford to contribute and help cover our costs.
Note: During the COVID-19 pandemic, SafeHouse Denver is doing our best to offer community education in a virtual setting. To see if a SafeHouse representative is available for your virtual education opportunity, please call 303-302-6125 or email communityed@safehouse-denver.org.
General Domestic Violence Program
Community education presentations cover essential information about domestic violence as well as specialized information for particular groups. For example, we can offer different curricula to meet the needs of mentors, health care providers or court-appointed child advocates. We are happy to work with you to assess your needs and particular areas of concern.
Corporate Training Program
Corporate trainings are designed for management, employees and human resource administrators to increase their awareness about domestic violence and its consequences in the workplace. These trainings can improve both institutional and individual responses to domestic violence. The benefits range from increased productivity to a safer working environment for everyone.
Teen Dating Violence Program
The Teen Dating Violence Program offers presentations as well as a more extensive curriculum to teens at school or with a community group. Research indicates that young women between the ages of 16 and 24 are the most likely group to experience intimate partner violence. Information about healthy dating behaviors and teen dating violence can help empower youth to develop safe and respectful relationships. Trainings on this subject are also available for educators and parents who are in a unique position to encourage prevention and intervene effectively when dating violence does occur.
Professional Training Program
Professional training presentations offer tailored, in-depth information and skill-building for professionals in the community who may have contact with domestic violence survivors.
SUBSCRIBE TO OUR NEWSLETTER
Follow the link below to receive our email newsletter.