IF YOU OR SOMEONE YOU KNOW IS EXPERIENCING DOMESTIC VIOLENCE, PLEASE CALL OUR 24-HOUR CRISIS & INFORMATION LINE: 303-318-9989.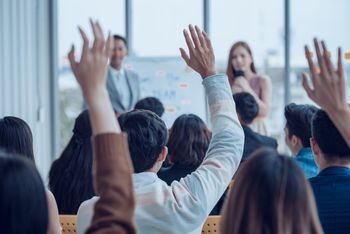 SafeHouse Denver is proud to provide educational presentations and professional trainings on domestic violence to increase community awareness, encourage prevention and develop effective community responses.
These presentations can be tailored to meet the specific needs of your group and can be provided in both English and Spanish, virtually or in-person, at your location or at our onsite Conference Center. If you're looking for something that you don't see listed below, feel free to reach out!
For more information or to inquire about scheduling, please call 303-302-6130 or email communityed@safehouse-denver.org.
Understanding DV Dynamics & Interventions (a.k.a. DV 101)
In this training, the presenter will break down the legal and operating definitions of domestic violence and help the audience to understand its roots in power and control. The training will cover the cycle of violence and how this cycle plays out in real case scenarios. The presenter will offer best practice strategies for basic crisis intervention and handling disclosures of domestic violence.
Parenting in the Context of Domestic Violence
Survivors and their children often still encounter abusive control post-separation through custody orders and shared parenting arrangements. This training will focus on the impacts of domestic violence exposure on children and the ways in which abusers use children as tools of abuse after separation. Strategies for coping with counter-parenting will be provided as well as information on ways to advocate within the civil legal system.
Overview of SafeHouse Denver Programs & Philosophy of Services
This presentation will offer a broad look at the continuum of services offered through SafeHouse Denver's residential and nonresidential programming, and connect these services to SafeHouse Denver's mission, vision and values. Information on accessing our services as well as how to connect with our programs as a community partner will be provided.
Domestic Violence Advocacy: Empowerment-Based, Trauma-Informed & Client-Centered
In this presentation, the basic tenets of advocacy-based domestic violence services will be explored. The presenter will review best practices in empowerment-based advocacy, trauma-informed care and client-centered modalities and discuss the ways in which these intersect, and at times, present common obstacles through which advocacy professionals must navigate.
SUBSCRIBE TO OUR NEWSLETTER
Follow the link below to receive our email newsletter.