Planned Giving Event -- August 10th, 2019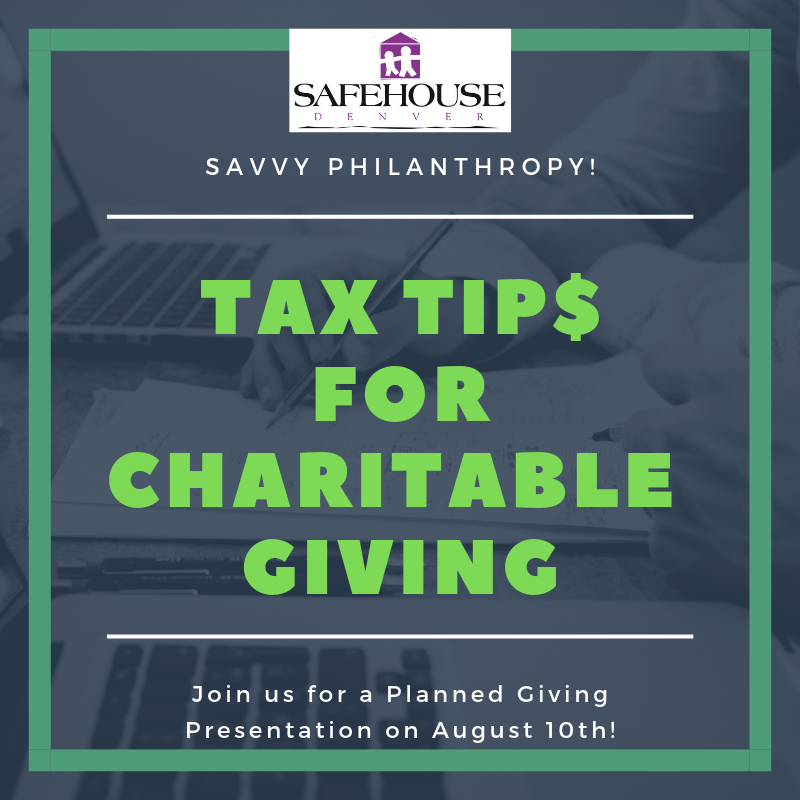 If a couple of tweaks to your giving would enable you to increase your support of survivors at SafeHouse Denver -- and perhaps decrease your taxes -- you would make them, wouldn't you? Of course you would! You just need to know how. That's why we're hosting a Planned Giving Presentation on Saturday, August 10th, at SafeHouse Denver's nonresidential facility.
PLANNED GIVING PRESENTATION
SATURDAY, August 10th, 1:00 - 2:30 p.m.
Our thanks to Ryley, Carlock & Applewhite for generously providing lunch.
SAFEHOUSE DENVER
1649 DOWNING STREET 
DENVER, CO  80218
(Parking in Rear of Building)
"Philanthropically minded individuals often meet their charitable giving goals using after-tax dollars. From a tax standpoint, this is the most inefficient way to give," according to Dylan Metzner, a passionate SafeHouse Denver Board Member and local tax attorney who specializes in estate planning. "Unfortunately, many of our donors are not aware of the various options they have to maximize their donations to SafeHouse Denver."
Metzner wants to change this. That's why he's generously volunteering his time to share his expertise at a Planned Giving Event on August 10th, 2019, at our non-residential Counseling & Advocacy Center. His presentation will focus on how planned giving can minimize tax ramifications for donors while increasing benefits for the nonprofits they support. Learn more by clicking here, or RSVP now! 
---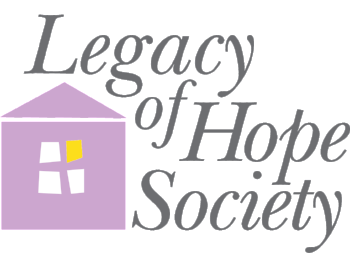 Created in 2014, the Legacy of Hope Society recognizes the extraordinary commitment of people who include SafeHouse Denver in their estate plans.
Members of the Legacy of Hope Society receive special invitations to events and are listed in our annual report and on our website. This special recognition acknowledges the long-term impact of their support, which builds a strong, solid foundation for SafeHouse Denver's domestic violence prevention and early intervention efforts. Visibility of our supporters' investment in our mission can encourage others to do the same.
The generous, far-reaching support provided by members of the Society allows SafeHouse Denver to pursue its mission of assisting adults, children and youth in reclaiming their right to a life free from domestic violence well into the future.
About Planned Giving
Planned giving is a way to integrate your personal, financial and estate planning by making charitable gifts that benefit you, your family and charity. There are several ways you can make planned gifts to SafeHouse Denver and enjoy tax and income benefits.
Perhaps most importantly, planned gifts are an extension of what you value as an individual and leave a legacy around that purpose, kindness and motivation for change.
Interested in learning more or ready to name SafeHouse Denver in your estate plans? Please contact Valerie Chilewski, Chief Development Officer, at 303-302-6116 or vchilewski@safehouse-denver.org.
---
Additional Resources
Through our partnership with Community First Foundation, we are able to provide our loyal donors like you with important information intended to help with understanding planned giving and its benefits. Inside the pages below you will find information about ways you can make a gift to us and enjoy valuable benefits such as lifetime income and tax savings. We will be happy to meet with you and your financial advisor to design a plan that is uniquely tailored to meet your philanthropic objectives. 
Learn More About Planned Giving
Learn how to make a gift that provides tax benefits and even life income. MORE
Learn About Wills
There are a variety of ways to plan for your family and loved ones with a will or living trust. View the presentations below to learn more about wills and estate planning. MORE
Donor Stories
Learn how other have made an impact through their acts of giving to our organization and others. Explore the many benefits of charitable gift planning. MORE
Never doubt that a small group of thoughtful, committed citizens can change the world. Indeed, it is the only thing that ever has. - Margaret Mead