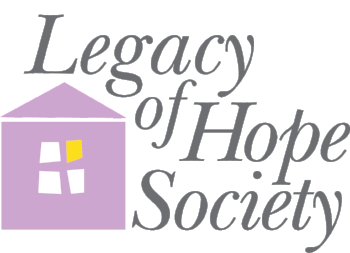 Created in 2014, the Legacy of Hope Society recognizes the extraordinary commitment of people who include SafeHouse Denver in their estate plans.
Members of the Legacy of Hope Society receive special invitations to events and are listed in our annual report and on our website. This special recognition acknowledges the long-term impact of their support, which builds a strong, solid foundation for SafeHouse Denver's domestic violence prevention and early intervention efforts. Visibility of our supporters' investment in our mission can encourage others to do the same.
The generous, far-reaching support provided by members of the Society allows SafeHouse Denver to pursue its mission of assisting adults, children and youth in reclaiming their right to a life free from domestic violence well into the future.
About Planned Giving
Planned giving is a way to integrate your personal, financial and estate planning by making charitable gifts that benefit you, your family and charity. There are several ways you can make planned gifts to SafeHouse Denver and enjoy tax and income benefits.
Perhaps most importantly, planned gifts are an extension of what you value as an individual and leave a legacy around that purpose, kindness and motivation for change.
Interested in learning more or ready to name SafeHouse Denver in your estate plans? Please contact Shannon Boltz, Chief Development Officer, at 303-302-6116 or sboltz@safehouse-denver.org.
---
Additional Resources
Through our partnership with Community First Foundation, we are able to provide our loyal donors like you with important information intended to help with understanding planned giving and its benefits. Inside the pages below you will find information about ways you can make a gift to us and enjoy valuable benefits such as lifetime income and tax savings. We will be happy to meet with you and your financial advisor to design a plan that is uniquely tailored to meet your philanthropic objectives. 
Learn More About Planned Giving
Learn how to make a gift that provides tax benefits and even life income. MORE
Learn About Wills
There are a variety of ways to plan for your family and loved ones with a will or living trust. View the presentations below to learn more about wills and estate planning. MORE
Donor Stories
Learn how other have made an impact through their acts of giving to our organization and others. Explore the many benefits of charitable gift planning. MORE
Never doubt that a small group of thoughtful, committed citizens can change the world. Indeed, it is the only thing that ever has. - Margaret Mead