An Update from Sophie...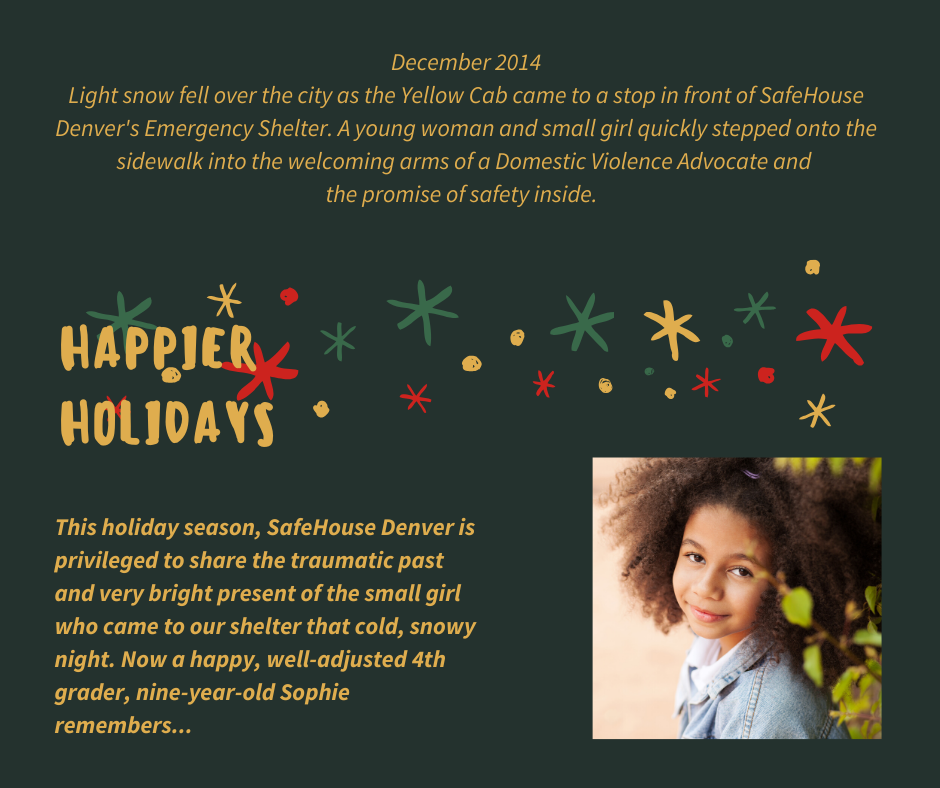 Even though I was only four, I can remember how scared I was before we left our house. My dad was so angry. He kept hitting Mom and calling her very bad names. I hid in my closest because I thought he would come after me next. Mom whispered that we had to leave. She called SafeHouse and they promised they would have two beds waiting for us.
Mom tells me that during our first week at the shelter I was quiet and afraid. I slept in her bed and held on to her all the time. But everyone at SafeHouse was kind and caring. They made sure that we had food, special treats and even Christmas presents. Mom called these nice people "Advocates" but I called them "helpers." They talked to me and helped me understand that hitting and yelling are never okay. They helped me make friends and become part of a special art group. They helped me feel safe.
Our SafeHouse Advocate helped Mom find a job and then an apartment. I still go to the same school where I started kindergarten and love 4th grade. Art is my favorite subject, but I like Math and Science too. I don't think about my dad or those scary times very often, but when I do, Mom, my teacher and school counselor are my helpers now.
Thank you, SafeHouse Denver!
Sophie
---
In the five years since Sophie was at our shelter, SafeHouse Denver has provided safety, basic necessities and a full range of support services to more than 500 children. This year, Sophie is their voice, urging you to help other children heal from the abuse they've witnessed or endured. We never charge for shelter or services, depending solely on the support of a caring community. 
This holiday season, please help survivors of domestic violence and their children feel the joy of a life free from abuse. Your tax-deductible gift will help provide life-saving safety and resources.
A donation of any amount will make a difference for survivors and will be deeply appreciated!