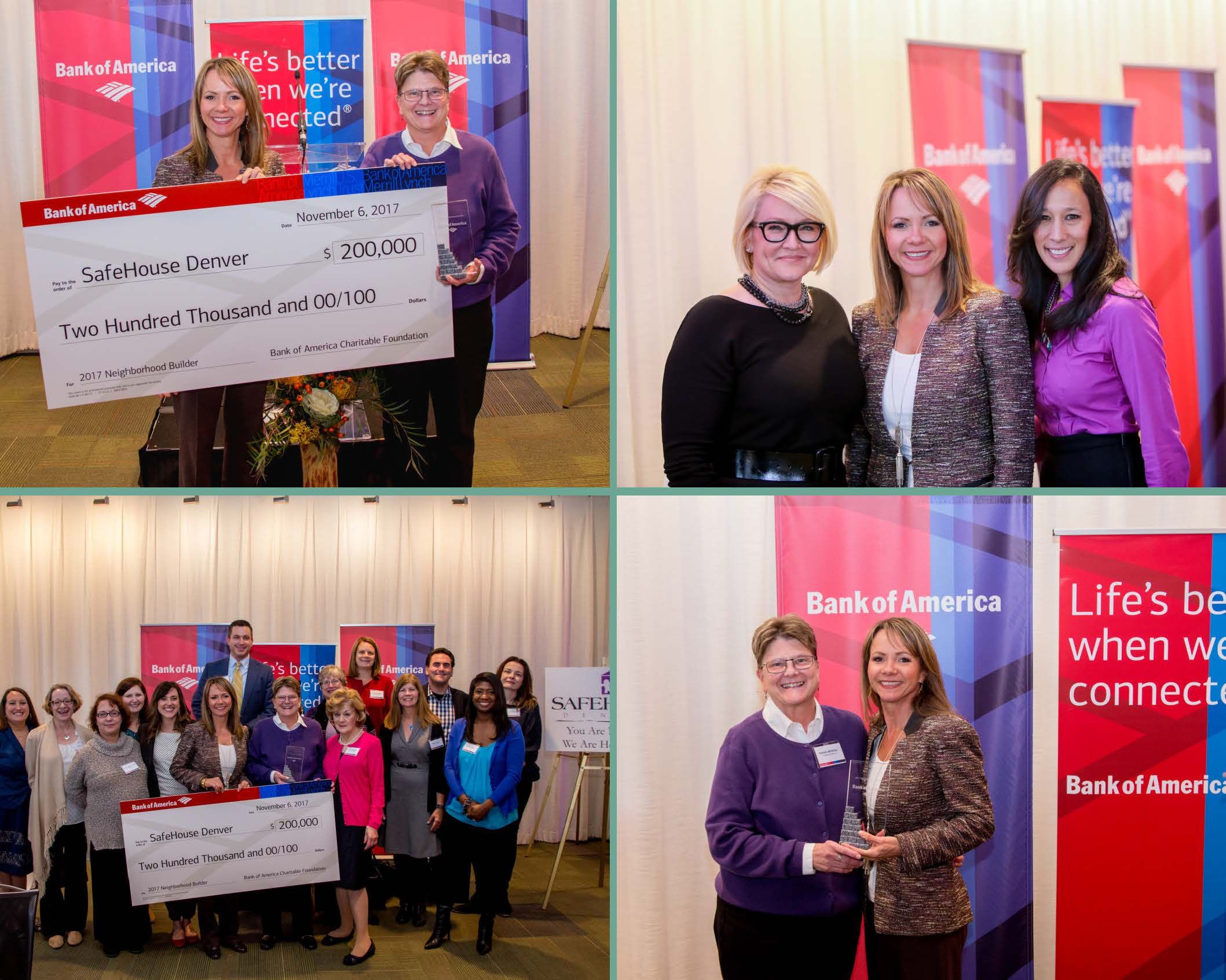 More than 100 Bank of America leaders, non-profit organization representatives, and SafeHouse Denver Board and Staff members gathered at the Denver Art Museum on Monday to learn that SafeHouse Denver had been selected for this prestigious award. In announcing SafeHouse Denver's selection from a field of 10 highly respected non-profits, Jodi Rolland, Colorado State and Denver Market President, Bank of America, noted that "SafeHouse Denver is meeting critical community needs and helping to strengthen the economic health of the city through their lifesaving services for survivors of domestic violence."
Through the Neighborhood Builder Program, Bank of America provides nonprofits with $200,000 in flexible funding, leadership development for the organization's executive director and an emerging leader, interaction with a network of peer organizations across the U.S., the involvement of Bank of America volunteers, and the opportunity to access capital to further expand their impact in the Denver community. SafeHouse Denver will direct the funds toward the purchase of our Extended Stay facility and the program's first year of operation.
"We are incredibly grateful and honored to receive this generous award," said Victoria McVicker, CEO. The Neighborhood Builder Award is an exciting opportunity for SafeHouse Denver to make an even greater impact in the Metro Denver area and we applaud Bank of America's commitment to partner with us to create a community that will not tolerate abuse. Bank of America is clearly invested in helping survivors of domestic violence heal and become successful, thriving members of the Denver community."
Since 2013, Bank of America has partnered with five nonprofits in Denver through the Neighborhood Builder Program, investing a total of $1 million to help them strengthen and expand services and programs serving the community. Through additional grants and partnerships, they've invested over $4 million in Denver.
Thank you, Bank of America!
Pictures from left to right: Jodi Rolland, Colorado State and Denver Market President, Bank of America, and Victoria McVicker, CEO, SafeHouse Denver; Kasia Iwaniczko MacLeod, Senior Vice President, State of Colorado Market Manager, Bank of America, Jodi Rolland, and Lina Kornmeyer, Vice President Enterprise Business & Community Engagement, Bank of America; Jodi Rolland and SafeHouse Denver staff and board members; Jodi Rolland and Victoria McVicker with the Neighborhood Builder Award