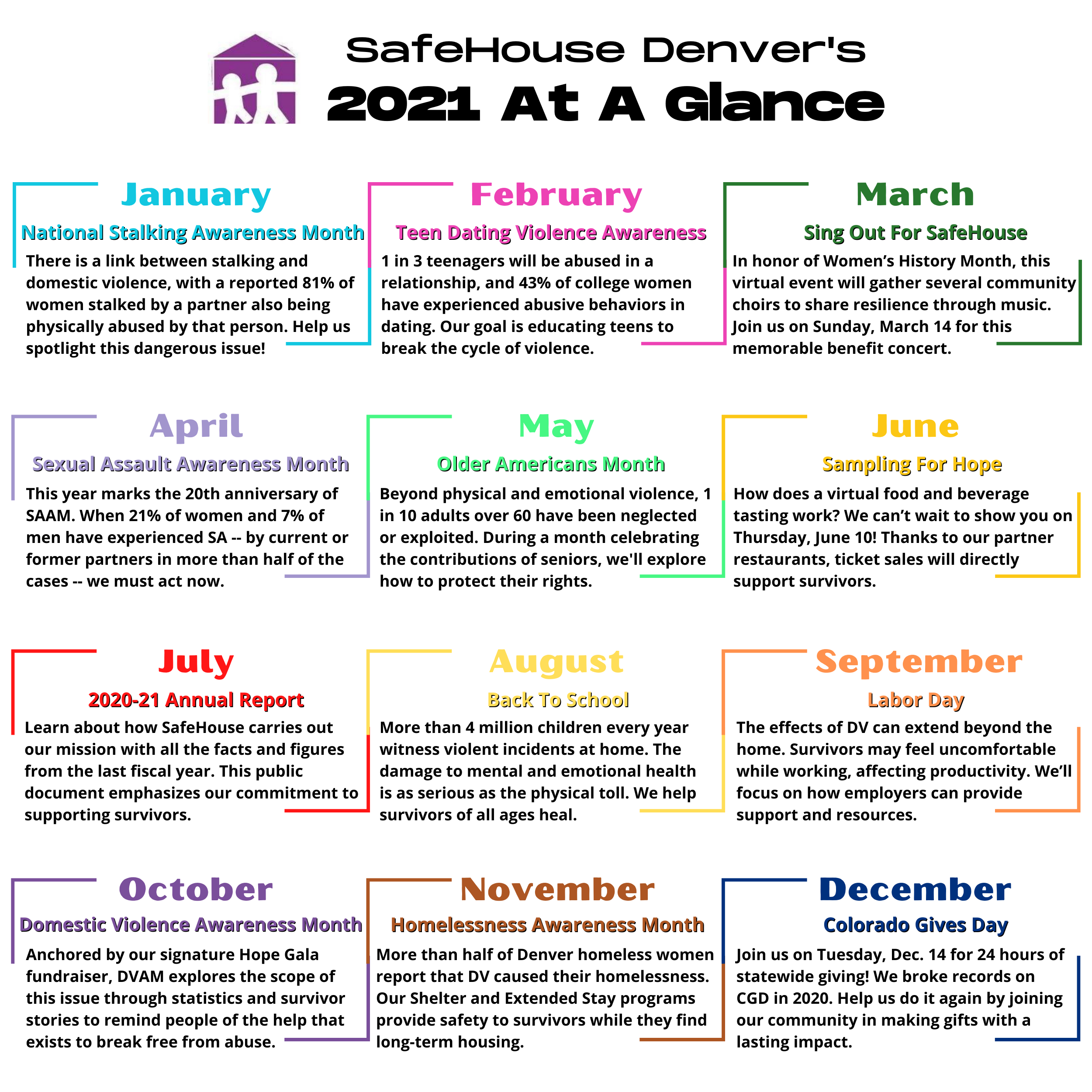 2021 is here, and a new year always brings new opportunities.
For SafeHouse Denver, those opportunities are centered around supporting survivors of domestic violence through our programs and services. Domestic violence (DV) is a pervasive issue, and the need to address it is always present.
As we look at the year ahead, please join us in a variety of ways to raise funds and awareness for the work that we do and the survivors that we serve.
Your support is a key element of our mission to help adults, children and youth reclaim their right to a life free from domestic violence. We look forward to having you join us for another year of empowering survivors!
January - National Stalking Awareness Month
There is a link between stalking and domestic violence, with a reported 81% of women stalked by a partner also being physically abused by that person. Help us spotlight this dangerous issue!
February - Teen Dating Violence Awareness Month
1 in 3 teenagers will be abused in a relationship, and 43% of college women have experienced abusive behaviors in dating. Our goal is educating teens to break the cycle of violence.
March - Sing Out For SafeHouse
In honor of Women's History Month, this virtual event will gather several community choirs to share resilience through music. Join us on Sunday, March 14 for this memorable benefit concert.
April - Sexual Assault Awareness Month
This year marks the 20th anniversary of SAAM. When 21% of women and 7% of men have experienced SA -- by current or former partners in more than half of the cases -- we must act now.
May - Older Americans Month
Beyond physical and emotional violence, 1 in 10 adults over 60 have been neglected or exploited. During a month celebrating the contributions of seniors, we'll explore how to protect their rights.
June - Sampling For Hope
How does a virtual food and beverage tasting work? We can't wait to show you on Thursday, June 10! Thanks to our partner restaurants, ticket sales will directly support survivors.
July - 2020-21 Annual Report
Learn about how SafeHouse carries out our mission with all the facts and figures from the last fiscal year. This public document emphasizes our commitment to supporting survivors.
August - Back To School
More than 4 million children every year witness violent incidents at home. The damage to mental and emotional health is as serious as the physical toll. We help survivors of all ages heal.
September - Labor Day
The effects of DV can extend beyond the home. Survivors may feel uncomfortable while working, affecting productivity. We'll focus on how employers can provide support and resources.
October - Domestic Violence Awareness Month
Anchored by our signature Hope Gala fundraiser, DVAM explores the scope of this issue through statistics and survivor stories to remind people of the help that exists to break free from abuse.
November - Homelessness Awareness Month
More than half of Denver homeless women report that DV caused their homelessness. Our Shelter and Extended Stay programs provide safety to survivors while they find long-term housing.
December - Colorado Gives Day
Join us on Tuesday, Dec. 14 for 24 hours of statewide giving! We broke records on CGD in 2020. Help us do it again by joining our community in making gifts with a lasting impact.