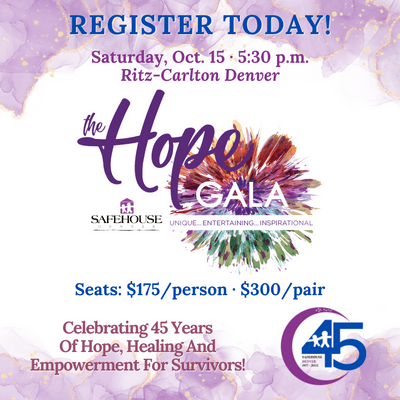 Why should you attend the Hope Gala? In our milestone year, this is the signature event that you don't want to miss.
Celebrate SafeHouse Denver's 45th anniversary with these 45 reasons (in no particular order) that will help you make the most of this impactful evening.
1. You'll be supporting survivors.
2. You'll experience a night on the town at The Ritz.
3. You'll enjoy passed appetizers and a plated gourmet dinner.
4. You'll be able to bid in exciting silent and live auctions.
5. You'll learn about the history of SafeHouse Denver.
6. You'll be guided through the evening by host Steve Staeger from 9News.
7. CRL Associates will be there.
8. MasTec will be there too.
9. And so will Joel Javer.
10. And so will Gibson Dunn.
11. And Lewis Roca.
12. And MDC Richmond American Foundation.
13. And Carol & Paul Rose.
14. And Ace Fluid Solutions.
15. And CPS HR Consulting.
16. And Elevation Marketing.
17. And FirstBank.
18. And Forvis.
19. And Foster Graham Milstein & Calisher.
20. And Grant Thornton.
21. And GFM|CenterTable.
22. And InTandem Human Resources.
23. And Jones & Keller.
24. And Smile Generation.
25. And Pam & Bob Stearman.
26. And The Weiler Family.
27. You can take pictures to remember and become an angel at our self-photo booth.
28. You can admire the unique Chihuly sculpture above the staircase at the Ritz.
29. You can congratulate Roger Sherman, recipient of this year's Susan Noble Community Impact Award.
30. You can enjoy complimentary dinner wine courtesy of Breakthru Beverage.
31. You can play Heads Or Tails for your chance to win a deluxe staycation package.
32. You can say hello to our new CEO, Jennifer Caruso.
33. You can mingle with fellow supporters and make new connections.
34. You'll be escorted into the ballroom with an uplifting musical surprise.
35. You'll learn more about our life-saving services, including new and expanded programs to reach even more survivors.
36. You can catch up with members of our Board and Committees.
37. You can have an excuse to dress up in your favorite cocktail attire.
38. You can visit our Wine Wall and take home a mystery bottle (valued anywhere between $20 and $90) for a donation of only $25.
39. Wine not your thing? Visit our Bubble Wall for a mystery bottle of celebratory champagne!
40. You'll be moved by the powerful story of our survivor speaker.
41. You can help us honor October as Domestic Violence Awareness Month.
42. You'll have the opportunity to walk through a survivor's journey.
43. You can thank a volunteer for their many different contributions to a successful Gala.
44. You'll be able to meet the SafeHouse staff members who make these events possible.
45. You'll be supporting survivors. (It's so important that we listed it twice!)
If you made it this far, you're clearly passionate about making a difference. Make it official by purchasing your seats now!