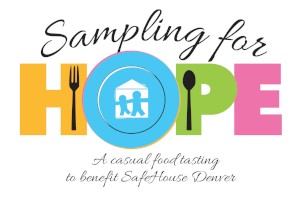 Join Us for Sampling For Hope 2018!
On Thursday, June 14, 2018, we'll gather at the Westin Denver Downtown for our 4th Annual Sampling for Hope food tasting event. Mark your calendars for a fun night with Denver's best chefs and caterers, filled with delicious bites and treats. 
Register now for this special night!
VIP Sampling for Hope Admission: $75 (Includes a drink ticket)
General Sampling for Hope Admission: $65
Event Details:
Date: Thursday, June 14th, 2018
Time: 6 to 9 pm
Location: The Westin Denver Downtown (1672 Lawrence St.); Mezzanine Level
Parking: Valet parking will be offered at a discounted rate of $15 for Sampling for Hope guests; Self-parking in the Tabor Center Garage (across the street from the Westin) is $7.
What to Expect: Delicious samples from a dozen restaurants and chefs; a casual evening to mingle with friends and meet new people; a silent auction and cork draw; and an inspiring short program about the mission of SafeHouse Denver.
---
Enjoy Samples from These Fabulous Establishments:
Be the first to know when we add to the restaurant list by joining the Sampling for Hope Facebook event page.
This year's event will celebrate the opening of SafeHouse Denver's new Extended Stay Program! As you may know, the proceeds from Sampling for Hope have always been directed toward the operating budget for this new program that will give survivors of domestic violence more time to access community resources and housing. With the Extended Stay Program set to open in early June, the timing couldn't be more appropriate for a celebration – and we want you to be there!
Thank You Sampling For Hope Sponsors!
Sampling For Hope would not be possible without the generous sponsorship from these companies and individuals:

Bradsby Group                                                                  Sarah Tinkler of Northwestern Mutual
Ibotta                                                                                    Summit Utilities
Ramonna Robinson                                                        Westerra Credit Union
---
Read more about the 2017 Sampling For Hope in this Westword article!
---