Sampling for Hope 2019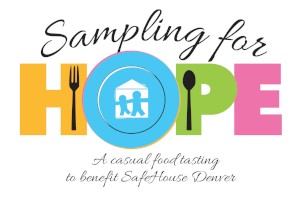 Sampling for Hope:  Good food for a good cause -- supporting survivors of domestic violence
What a beautiful outpouring of support from the community! Thank you to EVERYONE--sponsors, food purveyors, committee and board members, volunteers, attendees and emcee Kylie Bearse from 9NEWS--for making our fifth annual #SamplingForHope2019 a success! 
The event took place on Wednesday, June 12, 2019 at The Westin Denver Downtown. In addition to tasting delicious fare from 12 restaurants and chefs, the event also featured a cork draw and silent auction. All proceeds from Sampling for Hope are directed toward operating the Extended Stay Program.
We will share more details and photos from the event here very soon. 
---
Thank You to These Fabulous Establishments for Participating in Sampling for Hope 2019:
---
Read more about the 2017 Sampling For Hope in this Westword article!
---
At the 2018 Sampling for Hope, SafeHouse Denver unveiled a powerful video about the services provided for survivors, as told by two  Domestic Violence Advocates. Thank you to One Floor Up for generously donating the production of this incredible video!