Tax Credit Available
All donations to SafeHouse Denver are tax-deductible – and appreciated!
Starting in 2023, SafeHouse Denver is a participating organization in the newly created Homelessness Contribution Tax Credit (HCTC), which replaces our participation in the Enterprise Zone program. SafeHouse Denver is awaiting the specific details of requesting an HCTC for a 2023 qualifying donation. Rest assured that SafeHouse Denver is tracking qualifying donations made on or after January 1, and we will reach out to those donors individually once we are clear on what will be required.
We've compiled a helpful guide that explains what we know about the new process so far. However, if you have any questions, we encourage you to reach out to Shannon Boltz, Chief Development Officer, at 303-302-6116 or via email.
For 2022 Donations...
You are still able to request an Enterprise Zone tax credit for qualifying donations* made in calendar year 2022. However, please note that all requests must be submitted no later than Thursday, April 13, 2023.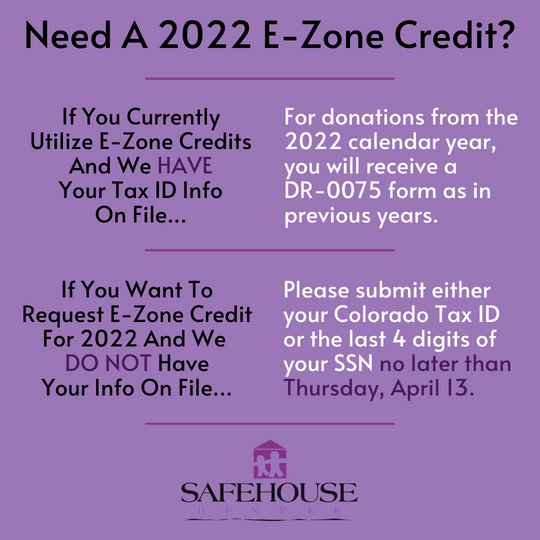 *Qualifying donations are $100 or more; the donor must reside and file taxes in Colorado; and the donor must file their state tax returns electronically. In order to qualify for this tax credit, donors must provide SafeHouse Denver with the last four digits of their Social Security Number or their Colorado Account Number. Without record of either of these numbers, we are unable to submit your donation as a qualifying contribution.
Questions? Email Stacey, our Development Associate, or call her at 303-302-6122 for more information.
Please consult your tax advisor regarding your unique tax situation.