Thank you for your interest in volunteering with SafeHouse Denver!
The success of SafeHouse Denver's programs and services is greatly dependent on the generous support provided by our volunteers. We offer a wide variety of both long-term and short-term volunteer opportunities.
Our next general Volunteer Training Session will take place on Saturday, March 14, 2020, from 8 a.m. to 4 p.m. Advanced training sessions for those volunteering with our Family Program and Crisis Line will follow on:
Family Program:  Monday, March 16, from 5:30-8 p.m.
Crisis Line:  Tuesday, March 24, from 5:30-8 p.m. 
Volunteer Opportunities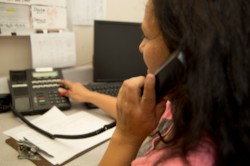 Long-Term Program Volunteer Opportunities (in-depth application process, training and background check required):
Family Program: Volunteers participate in and facilitate structured group activities with children/families of SafeHouse Denver clients.

Crisis Line Program: Volunteers respond to incoming calls on the crisis line, providing callers with crisis intervention, information, referrals, and supportive listening.
---
Short-Term or Episodic Volunteer Opportunities: 
Fundraising Event Committees: Volunteers are a vital part of the successful fundraising events that SafeHouse Denver hosts. Activities such as auction solicitation and event planning are great options for a shorter-term opportunity that has a substantial impact on survivors.

Mail Stuffing: Twice per calendar year, SafeHouse Denver mails out fundraising appeals to current constituents. With approximately 3,000 letters being mailed, we are grateful to volunteers that help stuff, seal and stamp envelopes.

Evening-of Event Volunteers: Short, one-time opportunities for individuals or small groups to help fundraising events run smoothly. These are usually 4-6 hour commitments.

Host a "Party with a Purpose": If you love to throw a party (or already have an upcoming birthday, anniversary, or other celebration planned), consider making it a "Party with a Purpose." These events are a great way to engage friends and family, and show that you believe every house should be a safe house.
Apply to be a short-term or episodic volunteer...
---
Group service projects are a great way to participate in a one-time-only activity with your family, church, colleagues, clubs, or any other group you may have in mind. Please note that your group will need to contact SafeHouse Denver to establish the scheduling and other requirements for your group to volunteer.
---
Internships
SafeHouse Denver partners with many local universities to provide internship opportunities for students working toward their MSW. If you are interested in interning at SafeHouse Denver, please check with your school's field office or career center to see if we partner with your school. We respectfully ask that you do not contact SafeHouse Denver directly to inquire about these opportunities.
---
Questions? Please contact Krystal MacDonald, Volunteer and Donations Coordinator, at 303-302-6128 or complete the contact form below.