Thank you for your interest in volunteering!
SafeHouse Denver offers a wide variety of both long-term and short-term volunteer opportunities.
We are humbled by and appreciative of the number of people wanting to volunteer during the COVID-19 crisis. However, for the safety of our staff members and Shelter residents and to comply with local health directives, we can host only a limited number of volunteers at this time.
We will begin scheduling Volunteer Training sessions very soon! If you're interested in volunteering with us in the future, please review our volunteer opportunities below and complete an application. We'll be in touch as soon as our next Volunteer Training is scheduled!
Doing your part to help contain spread of the virus and making a financial donation, if you're able, are also wonderful ways to support survivors during this critical time. Donations can be made online or mailed to SafeHouse Denver, 1649 Downing St. Denver, CO 80218. Thank you!
QUESTIONS? PLEASE CONTACT KRYSTAL MACDONALD, VOLUNTEER AND DONATIONS COORDINATOR, AT 303-302-6128 OR BY EMAIL.
Volunteer Opportunities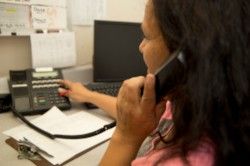 Long-Term Program Volunteer Opportunities
(Note: Family Program and Crisis Line volunteer opportunities require an in-depth application process. Once approved, you will need to complete significant training and, due to state requirements, submit to several background checks including fingerprint criminal history, child abuse/neglect and sex offender registry for the past five years. There is a cost to these background checks – approximately $94.50 – but no qualified volunteer will be turned away due to an inability to pay for these requirements.)
FAMILY PROGRAM
Participates in and facilitates structured group activities with children/families of SafeHouse Denver clients. Family Program volunteers must be creative, confident and non-judgmental. Volunteers must respect the confidentiality and safety of the adults and children at SafeHouse.
Hours Available: 6:15 pm to 8:15 pm Monday, Tuesday and/or Thursday evenings
Volunteer Commitment: Minimum of 4 hours per month
CRISIS LINE PROGRAM
Responds to incoming calls and provides callers with crisis intervention, information, referrals and supportive listening. Crisis Line volunteers must be able to work independently; respond to calls in a calm, assertive and non-judgmental manner; and respect the confidentiality and safety of the adults and children at SafeHouse.
Hours Available: 24/7 program. The only limitations are whether you volunteer at our Shelter (community living residential facility) or at our Counseling and Advocacy Center (office environment). CAC shifts are only available Monday to Friday from 8:30 a.m. to 4:30 p.m.
Volunteer Commitment: Minimum of 4 hours per month
Short-Term Volunteer Opportunities
Fundraising Event Committees: Volunteers are a vital part of the successful fundraising events that SafeHouse Denver hosts. Activities such as auction solicitation and event planning are great options for a shorter-term opportunity that has a substantial impact on survivors.
Mail Stuffing: Twice per calendar year, SafeHouse Denver mails out fundraising appeals to current constituents. With approximately 4,000 letters being mailed, we are grateful to volunteers that help stuff, seal and stamp envelopes.
Evening-of Event Volunteers: Short, one-time opportunities for individuals or small groups to help fundraising events run smoothly. These are usually 4 to 6-hour commitments.
GROUP SERVICE OPPORTUNITIES
These projects are designed for groups of various sizes. They are a great way to participate in a one-time-only activity with your family, church, colleagues or clubs. To maintain the safety and confidentiality of our clients, these group opportunities are very limited. Please email Krystal to inquire about upcoming opportunities.
SPARE CHANGE FOR SAFEHOUSE
This project involves setting up a collection area or table in your school, business, church or community to collect spare change to support SafeHouse Denver. Volunteers can also provide information and hand out materials about SafeHouse to those individuals who stop by.
SPECIAL ITEMS DRIVE
This project involves setting up drives for specific items, such as new school supplies or other items that are needed at our Shelter.
INTERNSHIPS
SafeHouse Denver partners with many local universities to provide internship opportunities for students working toward their MSW. If you are interested in interning with us, please check with your school's field office or career center to see if we partner with your school. We respectfully ask that you do not contact SafeHouse directly to inquire about these opportunities.
---
SUBSCRIBE TO OUR NEWSLETTER
Follow the link below to receive our email newsletter.