#WeekOfWhy
At SafeHouse Denver we are inspired by all the people who choose to support survivors of domestic violence. We've heard many amazing stories about why they donate to SafeHouse Denver,

but we want to hear from you!
---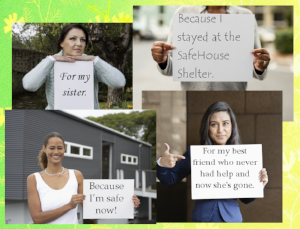 This spring, we want to hear your why, so we've launched the #WeekOfWhy. From May 13th through the 17th, you'll be able to participate in three key ways:
Visit WeekOfWhy.causevox.com to make a gift of any amount. Your donation will support the 1,200+ survivors of domestic violence that will receive services at SafeHouse Denver this year.

Click this link to download a printable card; write your "why" and snap a picture. Make it a selfie, involve your family, or stay anonymous and take a picture of just the card - creativity is encouraged!

Share your picture on social media using the hashtag #WeekOfWhy. (If you're not on social media, don't worry! You can post your picture on  the conversation board at WeekOfWhy.causevox.com!)
---
Chris Ogden, a leadership volunteer and supporter, shares his why…
For me, #SheIsWhy. "She" is Danielle Ogden.
Danielle Ogden is one of a kind. She is absolutely hilarious and has a smile that can light up a room. She is 22 years old, and is engaged to be married to the father of her beautiful one and a half year old son. She has loving parents, a 14 year old little brother, and her whole life in front of her.
Now go back to the last paragraph, and replace the present tense words with past tense ones. Danielle Ogden WAS one of a kind. She WAS absolutely hilarious. She HAD a smile that could light up a room.
I was that 14 year old little brother. Now I'm a 32 year old man who has had to talk about his sister in past tense for nearly 18 years.
On May 11th, 2000, I learned that my sister had been shot and killed by her fiancé before he turned the gun on himself, leaving behind their son. I learned that day how fatal domestic violence could be.
I have had to live many life experiences over the past 18 years without my sister. She has missed almost all of the important milestones in my life. But the person that has been the most affected by Danielle's death is somebody who can't even remember her: her son Dillon. Dillon was only 20 months old when Danielle was selfishly taken from him by his own father.  
Dillon will turn 20 this year, just as he starts his junior year of college. He is incredibly smart, thoughtful, and has a heart of gold, just like his mother did. I'm thankful to have him to remind me of her.
This time of year is always a little tough for me as the anniversary of Danielle's death approaches. But she is my why. She is the reason I move forward and try to help put an end to domestic violence.
Because #SheIsWhy, I will support SafeHouse Denver during the #WeekOfWhy and I hope you will too.