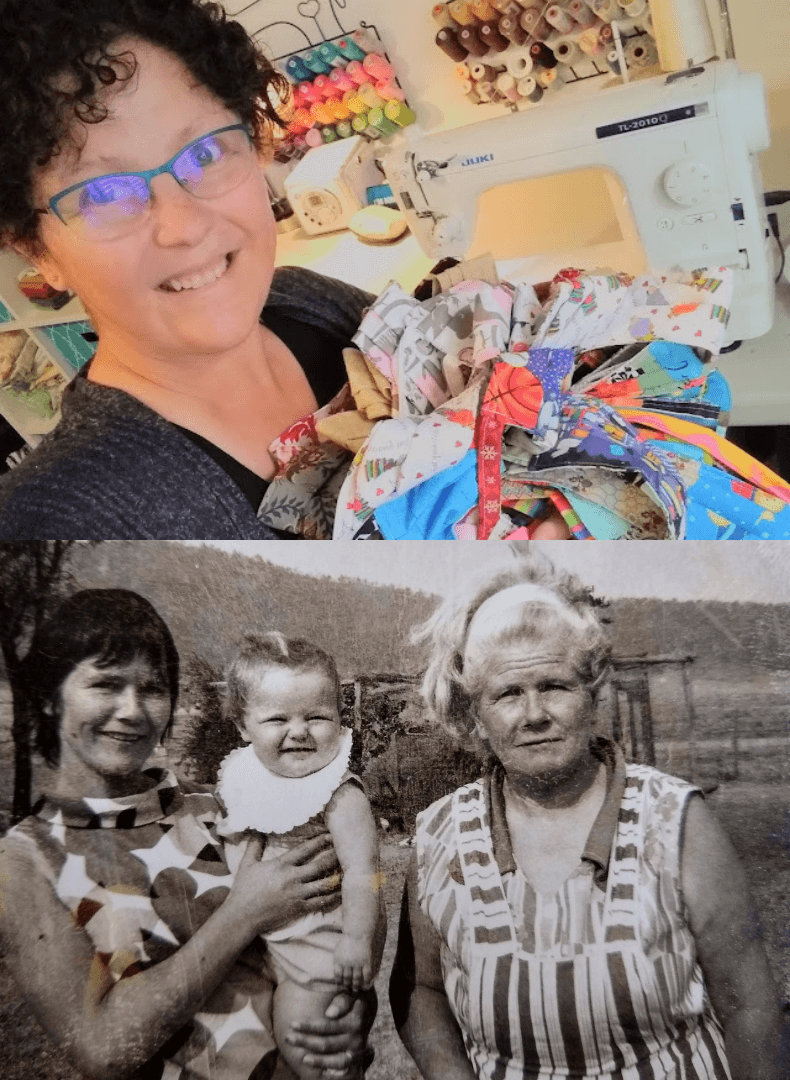 Welcome back to our regular series: the Supporter Spotlight!
Every member of our community has a story… a reason why the work of SafeHouse Denver and our mission of supporting survivors means so much to them.
This month, Marianne Jeffrey shares how a single gesture can provide hope to many, even when it comes from a personal loss.
Tell us a little more about yourself.
Marianne is originally from Australia, and she moved to Denver with her husband in 2012. Known as the Adventurous Quilter, Marianne is a prolific author with more than a dozen self-published books of quilt pattern designs. She also loves dogs, and her other professional pursuits include embracing body positivity through teaching yoga for bodies of all sizes.
How did you first get involved with SafeHouse Denver?
When her mother passed away in 2020, Marianne inherited a surplus of fabric from the estate. After looking up local domestic violence shelters online, Marianne designed, sewed and donated hundreds of face masks to SafeHouse Denver during the height of the pandemic. For this generous gesture, Marianne was named one of our community Heroes during Domestic Violence Awareness Month in 2020 and was also profiled in a video segment during that year's Hope Gala.
What does the mission of SafeHouse mean to you personally?
Marianne's mother Daphne and grandmother Joyce both experienced domestic violence. The full scope of this generational trauma surfaced after her mother's passing, which inspired Marianne's mask contribution as well as her ongoing relationship with our organization. "You can grow up and you can move away and escape the situation, but you don't escape the emotional toll that it takes on you when it's just always there in the background," she said. As a writer, Marianne explored these issues and her journey toward healing in an autobiographical book.
Fortunately, present and future generations of survivors can access resources like the safe shelter and empowering counseling and advocacy provided by SafeHouse. "A place like SafeHouse Denver has the ability to make a real, enduring difference and change in the lives of domestic violence survivors," she said.
What do you wish more people knew about domestic violence?
With as many as one in three women and one in four men experiencing some form of abuse by a partner, the perception and awareness of these incidents needs to change. "A lot of people don't realize how prevalent it is. A lot of people don't think they know anybody who's living in a domestic violence situation," Marianne said, pointing to a common sight like happy family photos on social media, which may not tell the whole story. 
"It's not necessarily something you can see."
What advice do you have for people who want to get involved with our mission?
Marianne believes that there's something for everyone when it comes to supporting the work of SafeHouse Denver, "even if you just want to do something annually." From recurring monthly donations to in-kind contributions like her masks, "there's so many different ways to help." Another easy way to make a difference is through online engagement, which can be as simple as sharing one of our educational social media posts with your network when it resonates with you. "It's nice to just keep it in people's minds and hope that they can recognize the signs if they ever see them," Marianne said.
With the holiday season approaching, year-end gifts in any amount are appreciated. Make your donation go even further this year by scheduling a gift for Colorado Gives Day on Tuesday, Dec. 7. Your contribution through this event not only supports survivors in our services but also helps us unlock an additional portion of the $1.6 million incentive fund. Thank you for making a difference for survivors!