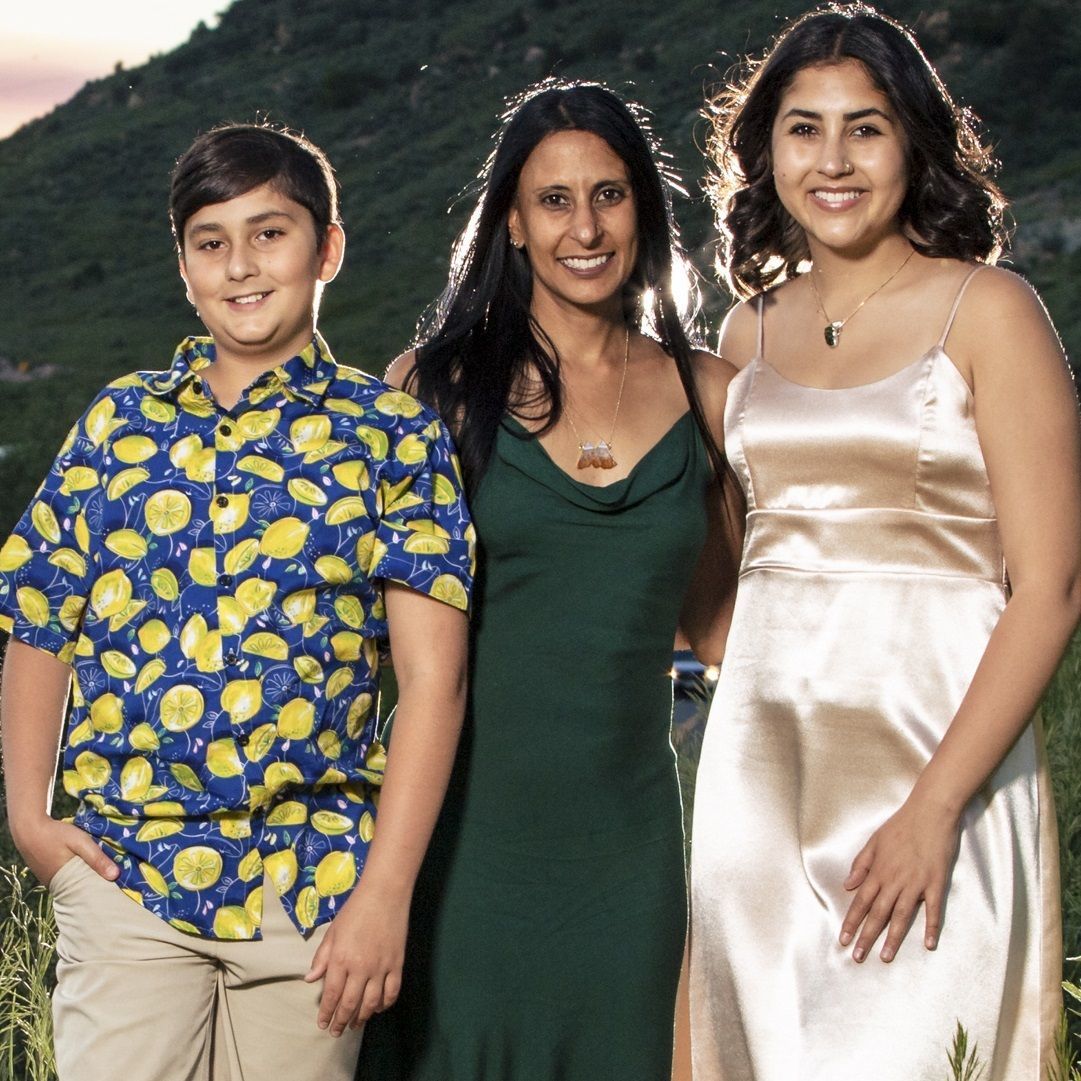 Welcome back to our regular series: the Supporter Spotlight! Every member of our community has a story… a reason why the work of SafeHouse Denver means so much.
This month, Sarita Parikh from Glow + Gather shares how her personal and professional values play a role in giving back.
Tell us a little more about yourself.
Sarita's family is originally from India, and she was born in Vermont before eventually coming to Colorado. She has had her own physical therapy practice for 18 years, but she has slowed down lately to help manage her epilepsy. One of her pursuits is a company she co-founded in 2017 with her younger niece and nephew, Glow + Gather, which crafts natural self-care items, home goods and spice blends. With its holistic focus on community and thriving, Sarita asked herself, "How can we use this company as a platform to do more?" For every purchase, she donates nonperishable food items and other necessities to SafeHouse Denver's Emergency Shelter.
In her free time, Sarita enjoys skiing, hiking and (during simpler times) travel. Exploring and learning about the world around her is a priority, and as an avid reader, she recently started a weekly social media feature called Banned Book Sundays. "We really believe in staying true to our values and standing up for what's right," Sarita said. "We're not afraid to take those stands, especially as a minority-owned business."
How did you first get involved with SafeHouse Denver?
Sarita first encountered SafeHouse when, as a local business owner, she was contacted about donating a silent auction item for our annual Hope Gala. From there, the partnership grew organically and now includes contributions from more than just Glow + Gather. Every fall, when Sarita celebrates Diwali (the Festival of Lights) and Indian New Year with family and friends, donations are encouraged to support survivors at SafeHouse Denver, which results in money, food and toiletries being collected.
What does the mission of SafeHouse mean to you personally?
Across her many interests, there is a common thread: lifting people up. "Being a healthcare provider, you see so many things," Sarita explained, noting the prevalence of domestic violence and "the courage it takes to leave and to recover from that trauma. What SafeHouse Denver does is incredible and necessary."
What do you wish more people knew about domestic violence?
"I wish that more people understood […] the challenges and the difficulties of an entire situation," Sarita shared, pointing out the assumptions and judgments that people make about survivors staying in relationships or not doing things differently. When considering things like kids, finances, or even pets, there's no simple answer to the complexities of this far-reaching issue that crosses all demographics and doesn't always look how people might expect. "This is someone that could be in my world at any moment in time and I would never think that this was [happening]," she observed.
What advice do you have for people who want to get involved with our mission?
Sarita emphasized how easy it is to have an impact on survivors of domestic violence and their children. "Do what you can, where you can, how you can. There's always a way to get involved: if it's your time, if it's money, if it's in-kind donations, if it's just spreading the word," she said. "Every little bit counts."
Want to join Sarita in making a difference for survivors? Learn more about ways to give, set up a community event or make an in-kind donation to our Emergency Shelter.