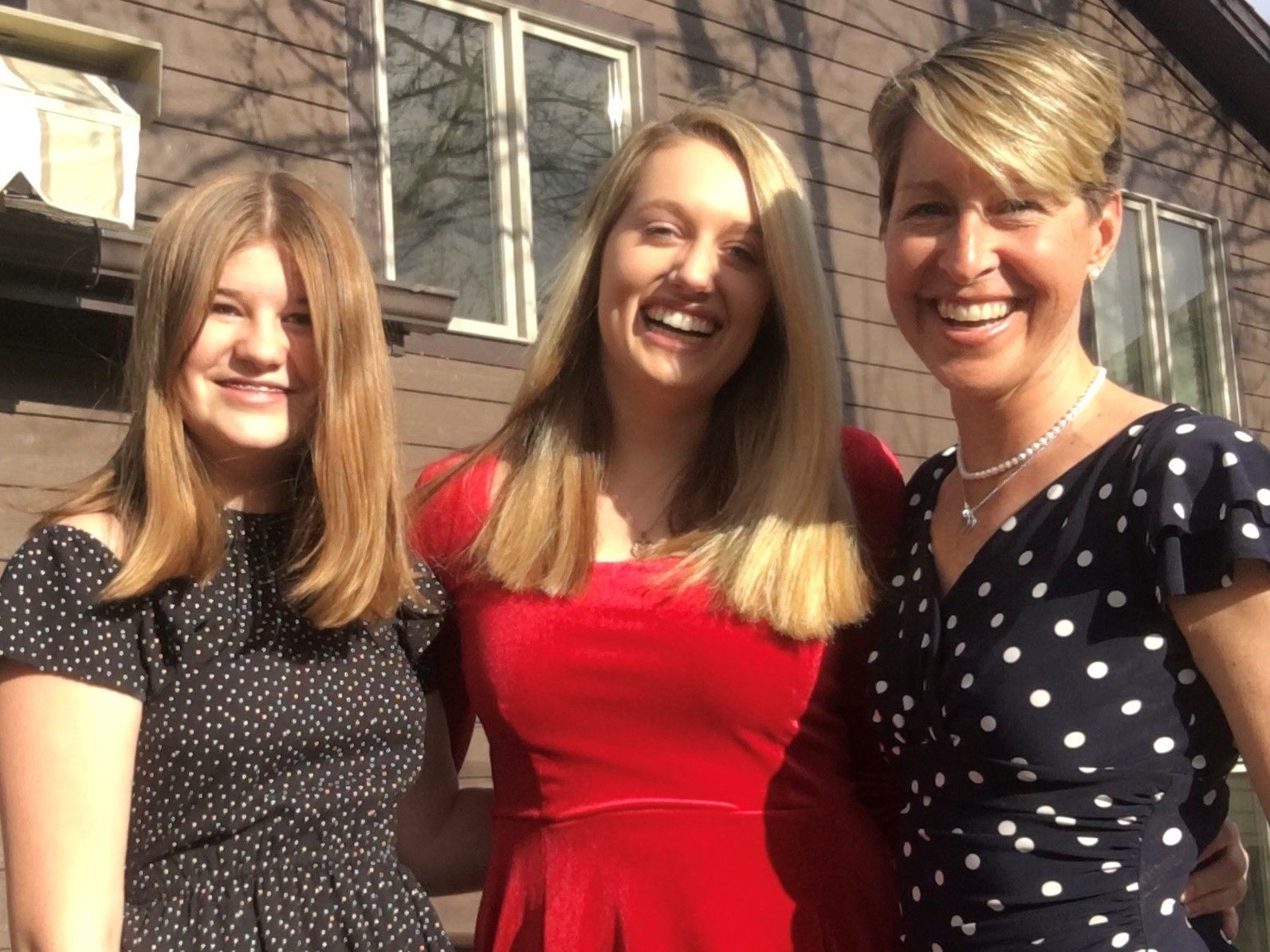 Welcome back to our regular series: the Supporter Spotlight! Every member of our community has a story… a reason why the work of SafeHouse Denver means so much.
This month, committee member Molly Harrington shares about her own journey as a survivor and how events like Sampling For Hope contribute to healing and empowerment for those in crisis.
Tell us a little more about yourself.
Molly grew up in Rochester, NY and went to school and lived in Boston before eventually relocating to the Denver area. She previously worked in the technology sector, but eventually pivoted and went to graduate school to start her "second life" as a high school counselor. For the last nine years, she has supported students with matters ranging from academics and college and career goals to social and emotional wellbeing. "My job is different every single day, which I love," Molly said, adding that it's fulfilling to be "working with kids and helping them get to where they want to be." Molly has two daughters: Abby, 19, is a college freshman and Reilly, 15, is a high school sophomore.
How did you first get involved with SafeHouse Denver?
Molly is a survivor of domestic violence who left her husband four years ago. "I felt like once I healed and got out […] that I would want to volunteer and give back," she explained. Opportunity quite literally knocked when a local realtor was collecting donations for SafeHouse, and Molly felt compelled to keep our brochure. In that moment, she knew "this is what I want to do when I'm ready." As volunteer openings became available, the time was right to take that step.
What does the mission of SafeHouse mean to you personally?
From her own experiences, Molly understands the fear of leaving an abuser and the plans that have to be made. "When you're in a bad situation, it's hard to think about how to get out," she described. "The person that you're with a lot of times will tell you 'You won't survive without me' or 'You won't make it.'" Even though she was able to stay with a friend at first, Molly knows that not everyone has a support system, especially when children are also involved.
These scenarios are why our Extended Stay Program (ESP) is so vital. "It's a way for survivors and their kids to be able to have a safe place to get on their feet, to think about their plan," Molly said. "When you're in a state of fear and being scared, it's hard to know what to do. [ESP] gives you a place to […] figure things out." Though she didn't know such a resource existed at the time when she needed it, Molly is thankful it's an option for other survivors, especially when it comes to the barriers that can accompany securing long-term housing. Survivors may wonder, "What am I going to do now? I made this big move to leave, and I don't want to go back or feel like I have to go back," Molly said. "But [SafeHouse gives] a pathway to get people to the other side and to start healing and to move forward."
With an event like Sampling For Hope, which raises funds and awareness for survivors at the ESP, Molly is confident in the generous support of our community to reach even more people with this mission. It's her first year as a committee member for the event, and she has enjoyed communicating with like-minded restaurant partners who are ready to make a difference. In addition to being able to share this impact with her daughters – who will also be in attendance – Molly is looking forward to a specific aspect of the program, one that will undoubtedly inspire many people at the venue. "I'm very excited for […] hearing the survivor story and being a part of that," she said.
What do you wish more people knew about domestic violence?
Molly believes that increased awareness within the legal system can make a real difference for survivors and educate their allies. "I think there's also a big need in the courts to have a better understanding [of abuse]," she said. While many people view domestic violence as just physical, Molly experienced emotional and verbal abuse, "and that doesn't count for anything in the courts. I was told I couldn't get a restraining order against him when it's just verbal." Even without physical contact or visible marks, the trauma from this type of abuse can still take a long time to heal.
This shift in thinking about the complex behaviors within domestic violence is something that Molly as well as SafeHouse itself would encourage people to realize. "There's a lot of different aspects to abuse, and the verbal abuse really can do a whole lot of damage to you," Molly stated, hoping to prevent others from "feeling like you're not worth anything and that you can't go out on your own and do the things that you were meant to do in life."
What advice do you have for people who want to get involved with our mission?
"Just do it," Molly said. "I wasn't really sure what it would look like when I went back to volunteer, and this gave a really good opportunity to meet some great people." Those people, her fellow committee members, have all found a common purpose through Sampling For Hope. Their experiences with domestic violence – whether it happened to them or to loved ones – instantly bound them through mutual respect and understanding.
This devotion to SafeHouse's mission of hope and healing for survivors is what unites supporters both near and far, no matter what form their generosity takes. "Even if you can just give a little with a donation, that's amazing, because it helps out a ton," Molly concluded. "I think giving whatever you can give is huge."
Join Molly and many others from our community in supporting survivors at Sampling For Hope on Thursday, June 9! This signature tasting event, which benefits our Extended Stay Program, features specialty dishes from 11 local restaurants along with a wine wall, silent auction, and an inspiring, mission-focused program. Tickets are still available – purchase yours today!