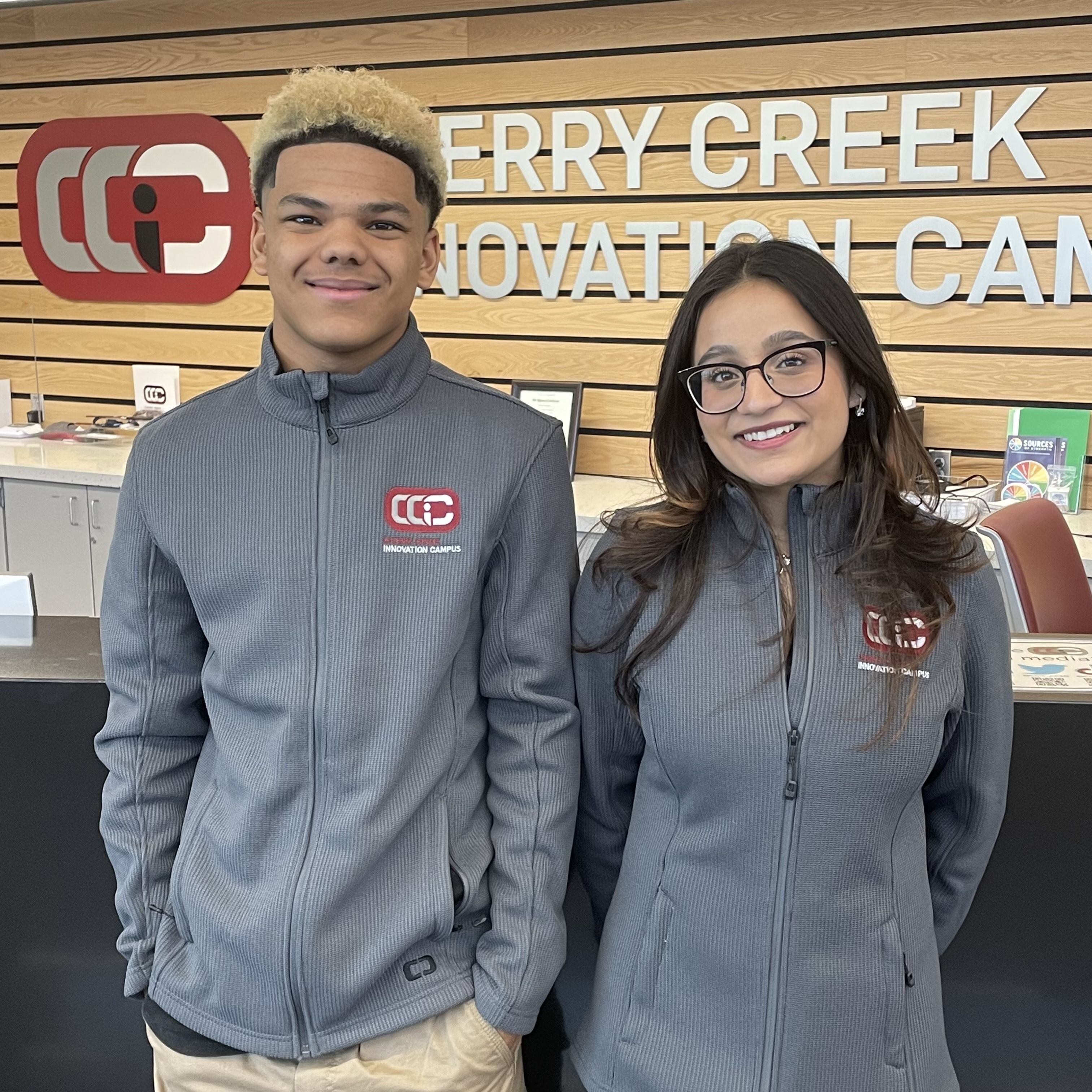 Welcome back to our regular series: the Supporter Spotlight!
Every member of our community has a story… a reason why the work of SafeHouse Denver means so much.
This month, in recognition of Teen Dating Violence Awareness Month, we're shining the Spotlight on two local students – Nutan Verma and Davol Moses – who used a school project to raise more than $900 in only 5 days.
Tell us a little more about yourselves.
Nutan, a senior at Grandview High School, and Davol, a junior at Overland High School, are both part of the Business Services program at the Cherry Creek Innovation Campus (CCIC). This specialized facility opened in 2019, providing real-world training and trade certification for college and career preparation through seven pathways that reflect in-demand industries. Students still earn diplomas from their "home" high schools while attending CCIC classes during a morning or afternoon session every other day, and transportation is provided to and from each school. Business felt right for Nutan because "this could really help me grow as a person," she said. Davol agreed, pointing to "the way that they set up the pathways to be more of a hands-on experience" with even greater academic depth.
How did you first hear about SafeHouse Denver?
Davol first became acquainted with SafeHouse Denver as a resource through a previous donation drive at Overland. As members of DECA — a business-oriented student organization that builds leaders through education and industry skills — he and Nutan decided to develop a project in the Community Giving category that would benefit survivors of domestic violence. In addition to the fundraising component, they had to create a budget and promotions that were approved by their teacher as well as CCIC administration.
Nutan and Davol held a "Wish Week" to raise funds and awareness. Themed or costumed "spirit days" weren't an option because of CCIC's uniforms as well as each pathway's own requirements and schedules. They settled on the daily shared 15-minute break period — five chances throughout the week to have an impact on survivors and their children at SafeHouse Denver. "We wanted to focus more on […] getting the word out with our week, and in general, what our cause was," Nutan explained.
What does the mission of SafeHouse mean to you personally?
"I think the way that students were put on to this issue was when we were putting cards in the Commons," Davol shared. Those cards were personal words of encouragement for survivors that were handwritten by fellow students. "We had over 100 students reply," he continued, noting that many of their peers approached them to share feelings and gratitude about the personal nature of the project. "It gave the students a way to connect with the cause," Nutan observed. "Even if they weren't donating money, writing the cards was a way to feel included."
Of the many positive, powerful messages, two of the cards particularly stood out to Nutan and Davol:
Never fear the darkness. It means that there is light somewhere. Hope, love, strength. You will and can get through this. Sending light.
You are strong, you are brave, you are loved. Sometimes people think if they love a broken person enough, they can be what finally repairs them. But the problem with that is the other person just ends up broken too.
"In our world, we're so scared to speak up about stuff because we're scared to be judged," Davol stated. "Seeing that somebody's got your back would make somebody extremely grateful."
Over the course of the Wish Week, Nutan and Davol's classmates raised a grand total of $962.95, enough funding to provide a survivor with 13 nights of safe shelter. After a "Miracle Minute" call to action, more than $300 of this amount was donated on that Thursday alone.
How do you think people can raise more awareness about domestic and dating violence?
Both Nutan and Davol pointed to the meaningful reach of social media platforms as a way to direct the community's attention. Even without a large number of followers, you never know who might notice an important post and feel seen. "It reaches teenagers at such a different level," Davol said. "When you see somebody that you trust on social media saying [abuse] isn't OK, they tend to be more influenced. Just making people know that they're empowered to say the word no."
They also acknowledged the role of schools in enhancing this valuable awareness. Beyond resources that are available at the school and district level, they are grateful that an environment like CCIC exists to break down barriers and promote inclusivity and acceptance. Despite their project's delicate subject matter, Nutan and Davol received the necessary access to and support from teachers and staff to ensure the event reached its full potential – even making its way into the daily announcements. "What our week was mainly about was to provide the most awareness as possible, and I think we did that in giving students the right to say no," Davol summarized. "We don't want to watch somebody go through something without help."
What happens next?
For Nutan and Davol, the point of their unique educational opportunities has been using what they've learned to help other people in the community. At the end of February, they'll take this project to the next level of competition at Colorado's state DECA event. If they place in the top three, they'll advance to Nationals – where their campaign has the potential to reach even more people with its message of hope and empowerment. "Even if we don't win, I think this was such a fulfilling thing that we did. It just feels good that we did so much, but there's also a better part to it," Nutan described.
If you have young people in your life, encourage them to ask if their school, community group, or job has opportunities to give back! SafeHouse Denver is always grateful for third-party initiatives that raise funds and awareness to support survivors of domestic violence and their children.