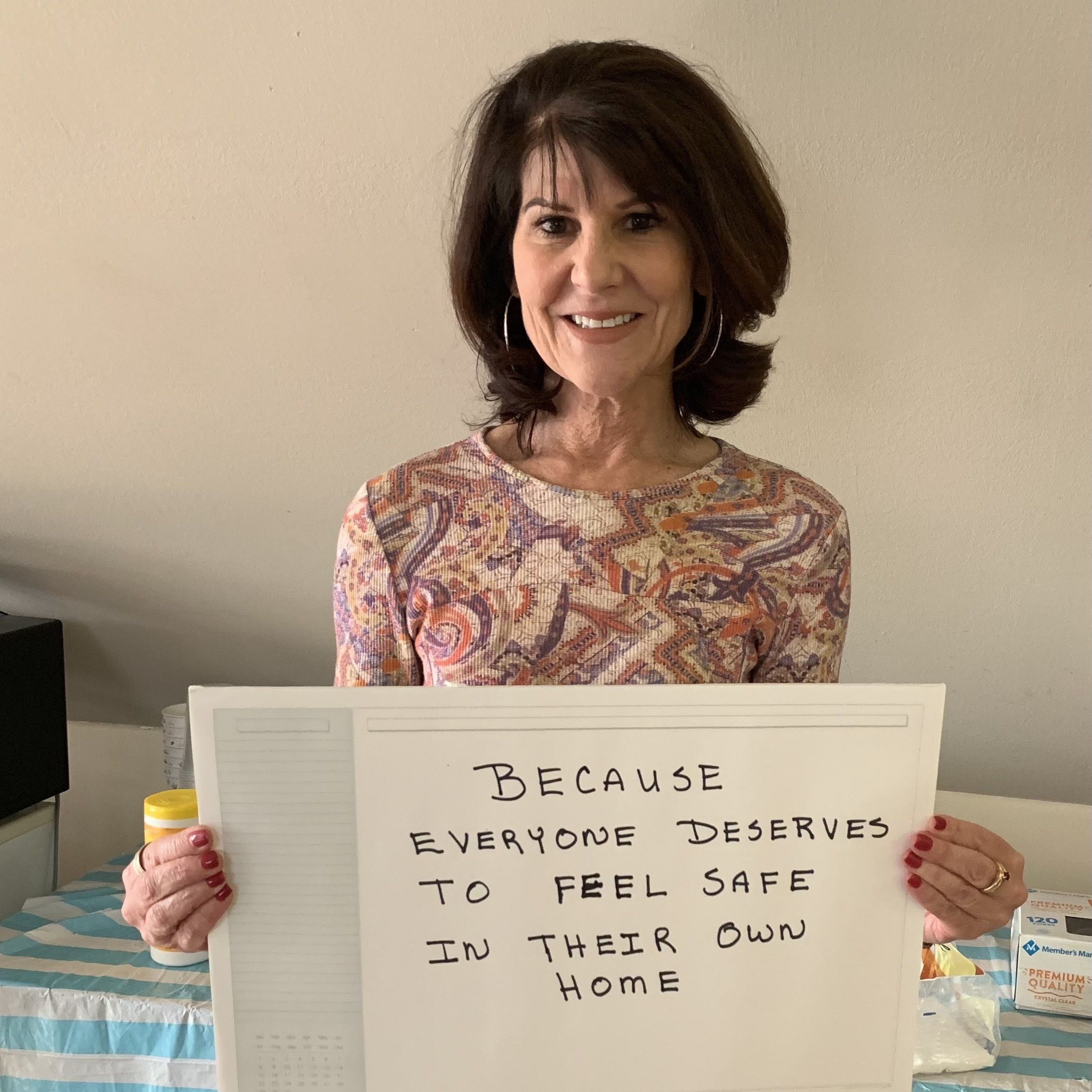 Welcome back to our regular series: the Supporter Spotlight! Every member of our community has a story… a reason why the work of SafeHouse Denver means so much.
This month, Kathie Calegar – one of our Sustainers Of Hope – uses her own journey as a survivor to show how donating to SafeHouse Denver makes a difference.
Tell us a little more about yourself.
Kathie comes from a military family, so she called many places home in her youth before eventually staying in Colorado after high school. Now retired from the mortgage industry, she enjoys traveling to visit her family: her daughter and son-in-law live in Texas with her three grandchildren, while her son and his partner live in Florida.
How did you first get involved with SafeHouse Denver?
After leaving an abusive marriage of seven years, Kathie was looking for ways to give back during her retirement. She first heard about SafeHouse Denver during Colorado Gives Day, and after that initial contribution, she began volunteering. Over the years, Kathie has helped with things like securing auction items for the Hope Gala and assembling seasonal mailers, but it was her time spent answering Crisis Line calls that really stood out. As a trained volunteer, she was prepared for the variety of requests that came in during her weekly shifts. Working directly with people experiencing domestic violence made her feel a greater need to support SafeHouse in providing services to our community.
"Working on the Crisis Line, it was very clear to me that [SafeHouse] needed as much support as possible, because often, [the Emergency Shelter] was full," Kathie said. "You had to direct [callers] to other resources, which was very hard […] knowing there's such a need. It's hard for people to actually make that call when they're in that situation, and you just need somebody compassionate on the other end."
What does the mission of SafeHouse mean to you personally?
Kathie was able to find places to stay temporarily when she left her husband, but she knows that isn't true for all survivors. "I have a heart for women that don't have that opportunity to be in a safe place or get out of [an abusive relationship]," she said, pointing to SafeHouse's range of services as a source of hope for survivors at any stage of their journey to healing.
To preserve that spirit, Kathie has been making monthly donations to SafeHouse Denver since 2015. "When I commit to something, I keep it going," she said. "It's not a huge amount, but I just feel good about supporting survivors on a monthly basis. It's my way of being able to give back because I feel like my life has been blessed." Kathie has found a healthy, supportive relationship, and she wishes the same for other survivors who are ready to take that step in their journey.
What do you wish more people knew about domestic violence?
The abusive behaviors and patterns that define domestic violence are often cyclical in nature, and Kathie observed that in her marriage. "You can keep trying and you can keep trying [to change things], but when you're with someone that is very controlling and verbally abusive, they don't actually need to be physically violent for all of that to be very traumatizing," she said. "[Abusers] promise that they'll change and promise it'll get better, but you're just right back to square one and going through it again and again."
Many survivors will go back to abusive relationships an average of seven times before leaving for good, and Kathie admits that for her, it was even more. "You just want [the relationship] to work," she explained, illustrating the struggle of many survivors to come to terms with their trauma. Kathie also mentioned the importance of safety planning with an Advocate, as leaving a relationship is often the most dangerous time because the abuser tends to escalate when they lose power and control over the survivor.
What advice do you have for people who want to get involved with our mission?
"Look at the website and how much SafeHouse does and how much it's helped survivors," Kathie said. "I hope it encourages others to either give monthly if they can or to get more involved. There's so many things that you can do."
Join Kathie and many others from our community by becoming a Sustainer Of Hope! Your recurring monthly donation provides a reliable source of vital funding that supports survivors year-round. Thank you for making a difference with us!