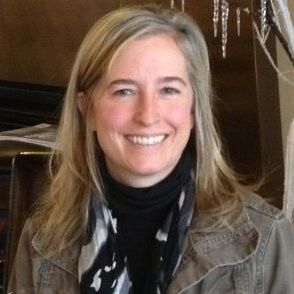 Welcome back to our regular series: the Supporter Spotlight!
Every member of our community has a story… a reason why the work of SafeHouse Denver means so much.
This month, Amanda Stevens – a longtime attendee of our Hope Gala – describes how the simple act of going to an event makes a lasting difference for survivors and the people who care about them.
Tell us a little more about yourself.
Amanda manages a team of 15 people in operational accounting for an oil and gas company. She appreciates collaborating with her younger colleagues. "It's really rewarding to watch them grow and empower them to give ideas on how we can make processes better," she shared.
As a Colorado native, Amanda is an avid outdoor enthusiast. "I can't imagine moving out of Colorado, where we go on hikes and then snowshoeing in the winter," she said. She's also a skilled scuba diver who enjoys being in the ocean. Her favorite place to dive is Roatán, an island off the coast of Honduras, where the coral and aquatic life thrive – unaffected by the hurricanes in that region. "It's so peaceful. Our days are so hectic, and then just to be underwater in the peace and quiet… I love it," Amanda explained.
There's still plenty to discover around Denver, as Amanda has taken up what she calls "urban hiking." She'll start early on a Saturday morning, walking several miles around town and finding new restaurants and other places to visit.
How did you first get involved with SafeHouse Denver?
Amanda's relationship with SafeHouse goes back nearly 20 years, when a friend of the family first invited her to the Hope Gala. "The entire evening was completely touching," Amanda recalled, which was made even more so upon learning that this friend is a survivor of domestic violence.
Over the last several years, Amanda became more involved with the event. Her best friend from high school was serving on our Board of Directors and encouraged her to invite a group of friends to attend the Gala. "I think this was just meant to be. Right away, I was able to fill the table," she said. "Every year since then, it feels like the organization that I was meant to support. It feels right."
During each event, she finds herself moved and inspired by the survivor stories. "It never ceases to amaze me the courage that these women have to get up and tell their story," Amanda reflected. "It's encouraging that people can get through [an abusive] situation."
What does the mission of SafeHouse mean to you personally?
With the support of close friends and an agency like SafeHouse Denver, survivors are able to regain their confidence and self-worth. "Everyone deserves to feel safe and feel that empowerment," Amanda stated, pointing out the threat that is still posed by non-physical forms of violence. When it comes to things like verbal abuse, Amanda noted that "it takes away that person's courage to do things that are very basic to most of us. That somebody could strip that away from you is just heartbreaking to me, and it takes a lifetime to heal through that."
What do you wish more people knew about domestic violence?
Amanda understands the importance of being sensitive to survivors' needs. More often than not, domestic violence is hard for survivors to talk about, so it feels easier to hide. To support their journey, it's essential to know what to look for and how to help. "I would encourage people to really, truly listen to their friends, their colleagues, even an acquaintance for any sort of sign that something might not be right," Amanda said. Guiding survivors toward compassionate resources like SafeHouse Denver will validate their experiences and let them know that they are not alone. "I just can't even imagine how many people are out there who are too afraid to come forward," she said.
What advice do you have for people who want to get involved with our mission?
"Attend an event. Really listening to the stories and seeing how much we can do to help… every little bit counts," Amanda suggested. Public events like the Hope Gala open the door for people to have conversations about the complexities of domestic violence by recognizing that shared support and making our mission of hope and healing more visible to others. "It's just a great way to do something good with my very strong girlfriends, and I think it helps us feel stronger together to do that event every year," Amanda said.
The Hope Gala will be held on Saturday, Oct. 15 at the Ritz-Carlton Denver. Tickets are now available! If you or your company would like to sponsor the Gala, please email Shannon Boltz, Chief Development Officer, or call 303-302-6116.