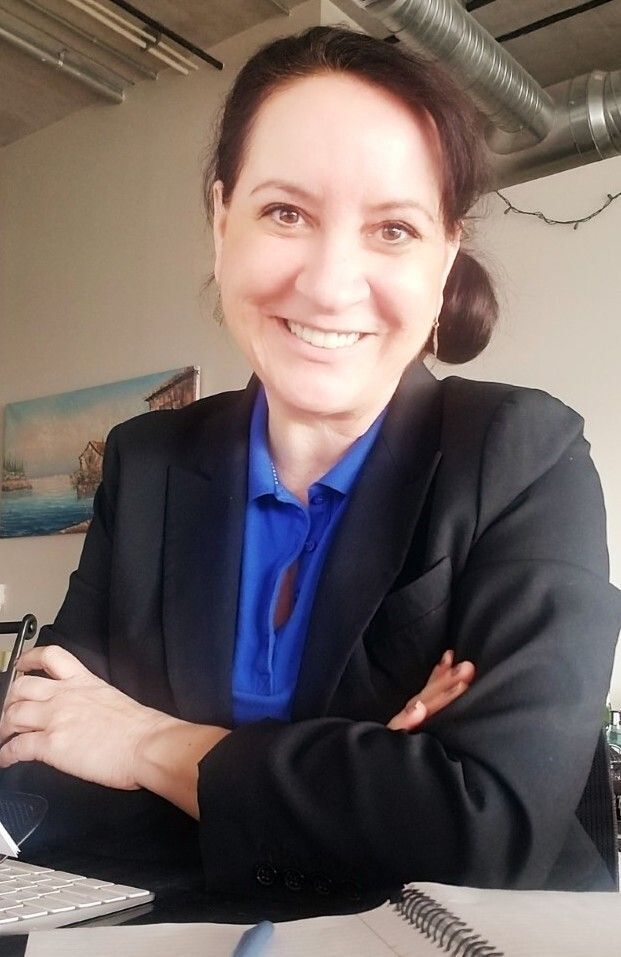 In July, SafeHouse Denver welcomed Jennifer Caruso as our new Chief Executive Officer. We previously shared some details from her professional credentials as a leader in the human services field. Now, we invite you to get to know the person behind the leader.
Jennifer was born and raised in Michigan, and her parents worked full-time. "My dad and mom both were very hard workers and instilled a lot of the work ethic that I have in me now," she said. Her mother worked in video duplication – first as a video operator, working as much overtime as possible on the assembly line before moving to an office setting. Her father started in a high-risk cold storage freezer environment for a large grocery distribution center; after rising through the ranks position by position, he eventually took on a leadership role, where he became Chief Union Steward and Teamster labor contract negotiator for members. Jennifer is the oldest of three sisters, and she appreciates the closeness and traditions of her Italian family.
In school, her favorite classes were social studies, history, and writing (a hobby that Jennifer still enjoys to this day). Her main activity as a child was competitive figure skating, which she started at six years old. Her time before school (often waking as early as 5:00 a.m.) and after school as well as the weekend was filled with practice – something that her father, who also coached hockey, strongly encouraged. Jennifer continued skating competitively through her late teen years. Despite a foot injury last year, skating will always be a part of her life. "I can't do triple axels anymore, but I still love to skate," she laughed, especially when she can join her nine-year-old niece (who is following in Jennifer's skates) on the ice. Ironically, Jennifer never enjoyed gym class and was always trying to find ways out of it.
As a college student at Northeastern Illinois University, Jennifer had an experience that would solidify human services as her passion. Jennifer is a survivor of aggravated stalking by the ex-boyfriend of one of her friends. He became obsessed with both women, frequently making threats and unwanted calls because he couldn't let go of the relationship and blamed Jennifer for the breakup. When the police were unable to track him, Jennifer hired a private investigator to find him and bring him to justice. While the stalker eventually went to jail, the sense of fear and dread from that time period still resonates with Jennifer, who had "felt completely unsafe" going to classes, work, or even her apartment.
"I didn't really have an advocate during that time," Jennifer said. "I knew then and there what I wanted to do." She finished her degree in criminal justice and psychology, and she went to work for a nonprofit with an advocacy component, where she helped survivors with legal referrals and resources. Even after moving on from that role, Jennifer still volunteered. In a career that has taken her from Illinois to Michigan and now to Colorado, it's easy to see the through line of Jennifer's commitment to supporting survivors. "That work I was doing […] on the front lines was just extremely rewarding, and I have been doing that work since then," she shared.
That dedication was formally recognized in 2021, as she was the proud recipient of the Guardian of Health Award from the Greater Detroit Area Health Council. The award honored Jennifer for her innovative services that took place during the onset of the COVID-19 pandemic. As the Director of Clinical Services for the Wayne County Department of Health, Human & Veteran Services, Jennifer had to promptly implement new ways to serve the inmate population at the county jail, partnering with nearby Wayne State University and consulting with experts in the medical community to coordinate comprehensive testing and mitigation procedures. The jail maintained the lowest COVID-19 positivity rate nationwide for any facility of that size, never going above 4%. Jennifer attributed success in expanding inmate health services to collaboration, motivation and staff empowerment. "It's not easy to work in a jail, especially during a pandemic," she explained. "I think it's really about trusting your team to do the right thing […] so they actually want to come to work and do that critical work on the ground."
Jennifer described her approach to engaging a team as the most important thing she's learned through her career so far: listening. "That has been ingrained in me," Jennifer said. "And not just hear them, but actively listen to what they're saying." She believes that this skill is vital to make decisions and impact change. As Jennifer brings these lessons to her role at SafeHouse Denver, she is excited to implement several goals for the agency.
Internally, Jennifer has embarked on a "listening tour" that prioritizes one-on-one meetings with every staff member to take stock of their needs. By elevating the staff and making sure the necessary tools and resources are available, everyone across the organization can feel included and involved. Externally, now that Jennifer has officially arrived in Denver after a brief stint working remotely, she looks forward to networking with donors and community stakeholders as soon as possible. In addition, by visiting partner offices and facilities to analyze potential service gaps, SafeHouse Denver can pursue meaningful growth in program offerings that better meet survivors' needs.
If you aren't able to meet Jennifer in a SafeHouse-related capacity, be on the lookout for her around town as she acclimates to life in a new city. Jennifer is excited to explore Denver's booming culinary scene and discover festivals and other sources of live music. While she's open to acts from any genre, she lists Green Day her favorite band. On a daily basis, though, Jennifer is right where she belongs: making a difference for survivors and their children at SafeHouse Denver. "I have always stayed grounded in that advocacy role, regardless of where I've gone," she said.
As an agency, we are excited to have Jennifer on board to lead SafeHouse Denver into the future. Here's to the next chapter of supporting survivors in our community!